Zhongshan Bridge
Post Date: 2020/03/17 13:55
Share to:
Overview
Zhongshan Bridge is one of landmark of Lanzhou city and it is the first bridge built which completely goes over the Yellow River it is also named the First Bridge over the Yellow River.Before its construction, there was a bateau bridge named Zhenyuan Bridge, which had been built in 1398. In 1907, engineers from Belgium, Germany and the U.S., together with local workers, jointly built the sturdy and durable iron bridge. In honor of Sun Yat-sen (1866-1925), a great Chinese revolutionary, the bridge was renamed Zhongshan Bridge in 1942 and has witnessed the vicissitudes along the Yellow River over the past century.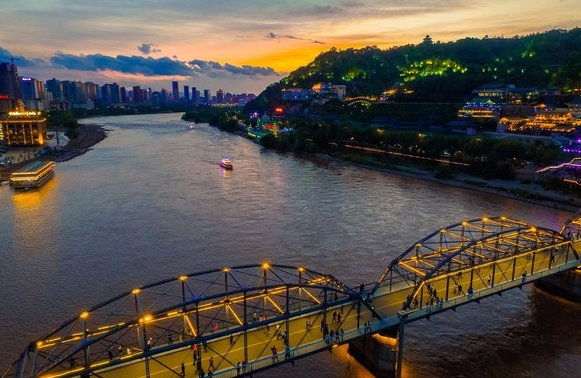 History of Zhongshan Bridge
The former bridge was built in 1372, during Ming Dynasty. It was built as a float bridge in 7 miles west of Lanzhou made by Feng Sheng who was a lord of Song Dynasty. Until the 9th year of Hongwu in Ming Dynasty (1376 A.D.), lord of Wei, Deng Yu moved the float bridge 10 miles west of city and called it Zhengyuan Bridge. In the 18th year of Hongwu of Ming Dynasty (1385 A.D.), Yang Lian, commander of defence army, moved the bridge to where the bridge locates today.In the 33th year of Emperor Guangxu, Qing Dynasty (1907), with the sponsor of Sheng Yun who was the satrap of Gansu and suggested by Ying Jia who was the Daopeng of Lanzhou, the Qing government spent fund 306,690 taels to build the bridge. Extending for 233.33 meters long and 7.5 meters high, it was the first bridge built on the Yellow River and was first called "Lanzhou Yellow River Iron Bridge". In 1954, Lanzhou People Government had reinforced it and added five steel arc girders what made the bridge looks solid and durable, grandiose as the bridge nowadays.
What to see & do in Zhongshan Bridge
Zhongshan Bridge is one of good places to enjoy the view of Yellow River in Lanzhou. It is possible for visitors who are interested in traveling under the bridge in the Yellow River by raft. The bridge is available for walking and cycling, no car allowed. You can really get a "Yellow Water" view of Yellow River. If you visit the bridge at night, the colorful light on both sides of the river is florid. On the northern side of the bridge. There is a museum show you the history of the Zhong Shan Bridge if you interested.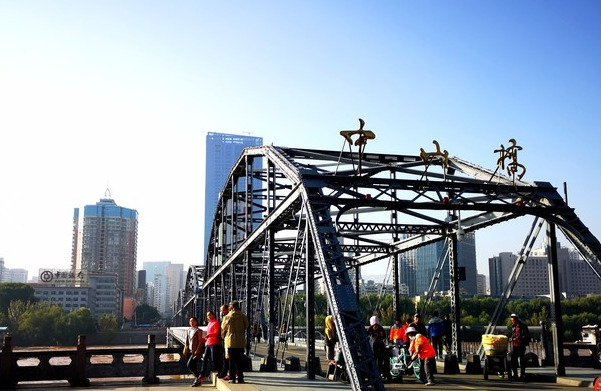 Basic Information
Location: On the north side of the middle Binhe Road,Chengguan District,Lanzhou
Entrance Fee: Free
Opening Hours: All day
How to get there:
1) From southern shore of Yellow River: Take city bus No.4, 6, 9, 15, 25, 74,105, 109, 123, 142 and get off at Zhongshan Bridge Station;
2) From Northern shore of Yellow River: Take city bus No.20, 35, 53, 108,131 and get off at the White Pagoda Park Station
3) Take Taxi