Tiantishan Grottoes
Post Date: 2020/04/03 13:50
Share to:
Overview
Tiantishan Grottoes also known as Dafo Temple. It is the one of the earliest grottoes in China. It was built in the Northern Liang of the Eantern Jin Period, with a history of about 1,600 years. Tiantishan Mountain's peaks are tall and rugged, steep and high, towering into the sky. There are stairs on the mountain. Up the stairs along the bumpy path, which like a hanging ladder on the mountain, hence the name of Tiantishan.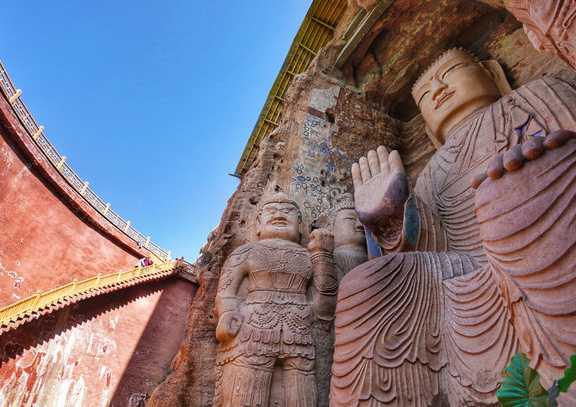 History of Tiantishan Grottoes
The Tianti Mountain Grottoes was enlarged in the Northern Wei Dynasty, the Sui Dynasty, the Tang Dynasty and the Xixia Kingdom, and it became a Lamaism Temple in the Ming and the Qing Dynasties. More than 10 grottoes were destroyed in varying degree during the earthquake in 1927. Owing to the construction of the Huangyang Reservoir in 1959, some of the statues and frescoes were moved into the Museum of Gansu Province for the safe side.

What to see in Tiantishan Grottoes
When you visit the Tiantishan Grottoes, there are 3 layers' grottoes existed with 17 shine and over 100 Buddha's statues, and the Buddhist texts of Wei, Sui and Tang Dynasties. The main grotto of Tathagata is a sitting statue with lively expression and exquisite mould. The largest Grotto is 30 m high, 19 m wide and 6 m deep. And the Tathagata Statue is 15 m tall, 10 m wide with Manjusri, Samantabhadra, Virupakkha, Vaisravana, Mahakasyapa and Ananda at its right and left sides. On north and south walls of the grotto, there are large murals. The south wall was painted with Dragon with cloud pattern, the central is elephant and deer and the elephant's back is packed with gleaming scriptures, and the lower wall is the Tigers, trees and flowers. On the north wall painted with the Ministry of Dragon, central painted white horse, ink tiger, Linden, and on horseback are sparking Buddhist texts, and the lower part was painted peony flowers. The entire mural is in clear brushwork and bright color.

Basic Information
Location: Dengshan Village, Zhonglu Township, 50 kilometers south of Wuwei City, Gansu Province
Entrance Fee: CNY30
Opening hours: 08: 30-18: 00 (peak season), 09: 00-17: 30 (low season)
How to get there: You can take bus No.9 to reach Tiantishan Grottoes from Wuwei. Or you can take taxi from Wuwei.