The Flaming Mountain
Post Date: 2020/03/17 16:55
Share to:
Overview
Flame Mountain is the most famous scenic spot in Turpan. It is located in the northern margin of Turpan Basin and the northern route of the ancient Silk Road.The Flaming Mountains are the hottest places in China, a real furnace. The red sandstone gives the impression of flare in contact with rays of light, all under a blazing sun. It offers stunning view despite the sweltering heat of the premises.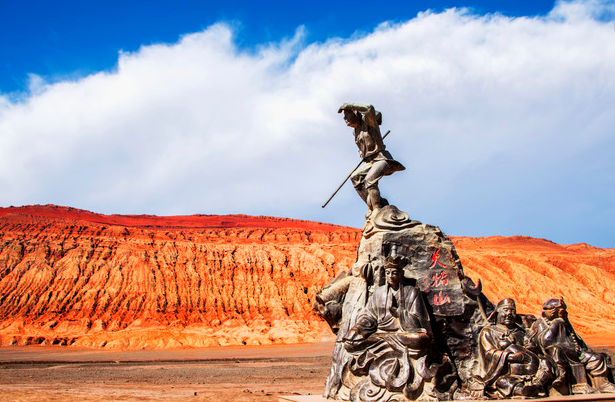 History & Legend of Flaming Mountain
There are many old legendary stories make this mountain unique, attractive and with lots of room for wild imagination. The mountain is popular thanks to a classical novel, "The Journey to the West" written in the Ming Dynasty (1368-1644) by writer Wu Cheng'en, which fascinated by his famous and its charming hero The Monkey King. The monkey king in the novel kicked over an elixir oven in the heaven while fighting with gods, charcoals fell onto the mountain and started a lasting fire, and then he extinguished the flame with a magic fan.For instance, the local Uighurs have a story to explain the red color of the mountains' surface. According to the Uighurs, the Flaming Mountains were once ravaged by a dragon. When the dragon was eventually slain by a young hero, its blood was spilled on the mountains, hence giving the earth its bright red color.

Scientific explanation cites tectonic plate movement on the earth's surface during the formation of the Himalayas 50,000,000 years ago. Many years of volcanic activity have formed the unique crisscrossing gullies and ravines.

Geological Origins of the Flaming Mountains
According to geologists, the Flaming Mountains were formed by the movement of tectonic plates on the earth's surface during the formation of the Himalayas fifty million years ago. Over time, erosion of the red sandstone bedrock caused the formation of the ravines and gullies that crisscross the mountains. These features give the mountains a fiery appearance at certain times of the day. During the summer, the surface temperature of these mountains can exceed 70 °C!

What to See & Do in Flaming Mountain
The Flaming Mountain Scenic Area is divided into two parts: underground and above-ground.There are other scenic spots inside the Flame Mountain Tourist Zone including the Shengjinkou Canyon, Horse Fastening Stake, Foot Resting Stone, the Group Sculpture of the Pilgrimage of Xuanzang. The grotto and fresco of Tang Dynasty and Han Dynasty and other cultural sites and so on. In the commercial area you can find crafts people with a wide range of products that celebrate the cultural, folk, regional folk memory. Souvenir like knives, hats, flowers, palm leaves, fans, thermometers, etc..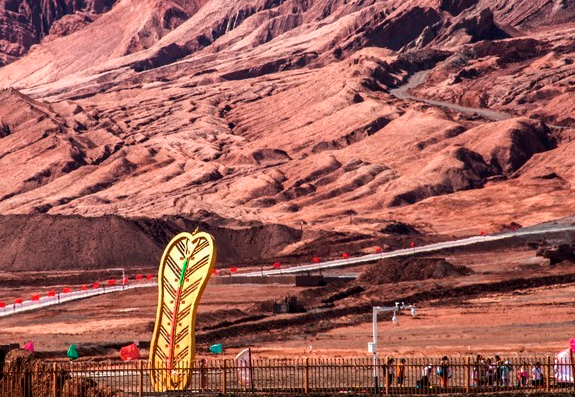 Basic Information
Location: About 10KM from Turpan City
Entrance Fee: 45CNY
Opening Hours: 8:00AM-21:00PM(peak season); 10:00AM-18:30PM(low season)
How to get there:
1) Take bus from Turpan Bus Station to The Flaming Mountain, it takes around half an hour.
2) Take taxi from Turpan
3) Use the priavte transfer service