Luoshi Pagoda
Post Date: 2020/04/03 14:13
Share to:
Overview
The Luoshi Pagoda is located on the north street of Wuwei City. It is built in memory of the Western monk Kumorosh to carry forward Buddhism and translate classic merits in Wuwei. The existing Luoshi Pagoda has an octagonal and twelve-story building, 32 meters high, all made of strip-shaped bricks. There are doors on the third, fifth, and eighth floors from the bottom. The top is a gourd-shaped copper treasure jar. There are small Buddha statues on the top and east, and there are Buddha statues inside. Symbolizing the long and civilized history of Wuwei Ancient City, it is a testimony of cultural exchange between China and the West on the Silk Road more than 1,500 years ago.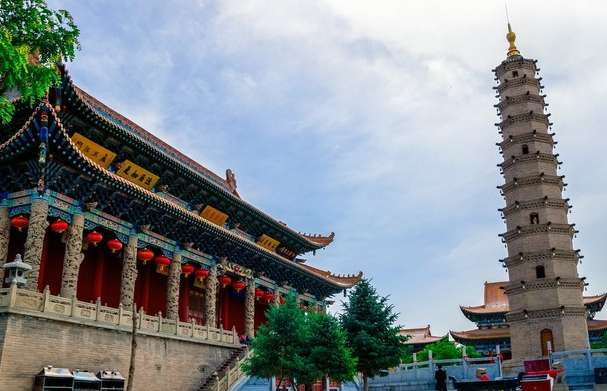 The Luoshi Pagoda was first built in Houliang (386-402). It was vigorously expanded in the Tang Dynasty and repaired in the Ming and Qing dynasties. During the Ming dynasty, it became the Great Monastery of Liangzhou in Shaanxi. On the 15th of the 10th year of the Orthodox, the Buddhist scriptures were awarded to the Luoshi Monastery. He also passed the sacred scripture, and said in the middle: "Publishing the Great Tibetan Scriptures, conferring the world, spreading it widely, and using a collection to set up a temple in Liangzhou, Shaanxi Province, to support it forever." This scripture is now preserved in Wuwei City Museum. In the twenty-sixth "Rebuilding of the Luoshi Monastery Monument" in Kangxi of the Qing Dynasty, the rebuilt Luoshi Monastery "recovered the front and back of the three courtyards, and it is a blessed place for the five coolers; it is magnificent, and it is also a resort in Chengxi."

Basic Information
Location: North Street, Liangzhou District, Wuwei City, Gansu Province
Entrance Fee: free
Opening hours: 08:00am-16:00pm
How to get there: You can take city bus or taxi when you in Wuwei city.