Leitai Park
Post Date: 2020/04/03 16:34
Share to:
Overview
Leitai Park is one of the famous tourist attractions in Wuwei county. The reason why this tomb is famous in the world is that the bronze statue of Ma Ta Feiyan, a tourist symbol of China, was unearthed here. There is a bronze statue of Running Horse at the center, it is unique with its splendid designs. On the side, there are many bronze army horses. The famous Leitai Han Tomb is in the park, which is the tomb of Zhangye General, the guardian of the Han Dynasty.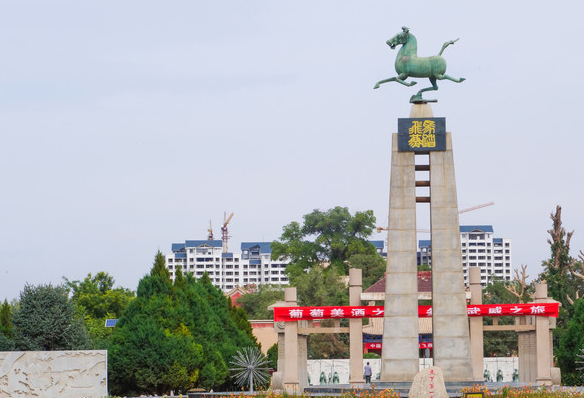 Introduction of Bronze Running Horse
Bronze Galloping Horse was unearthed in 1969 in the Leitai Tomb of the Eastern Han Dynasty (25-220) in Wuwei County, Gansu Province. The bronze statue is a famous representative sculpture of the Han Dynasty. Wuwei County leapt to fame with the discovery of this national treasure. It is 34.5 cm high and 41 cm long. The roaring horse is finely shaped in a galloping posture with one hoof treading on the back of a swallow. The posture is unique and carefully balanced according to dynamics. The bronze statue, created about 2,000 years ago, has a lively action and accurate proportions. The positioning of its four legs strictly conforms to that of a living horse and is highly praised by many local and foreign archeologists and artists. The horse is raising its head, neighing and galloping forward with one foot treading on a flying swallow.


What to see in Leitai Park
Gansu Flying Horse (Bronze Running Horse) and the giant tombstone are the main attraction of Leitai Park. The tombstone was dated back from Eastern Han Dynasty (220AD), which is now part of Leitai Park. Gansu Flying Horses were unearthed in this tomb. An army including 99 bronze chariots was then cast and displayed in Leitai Park near the tomb to signify that Gansu Flying Horses were unearthed in this site. Gansu Flying Horse unearthed from the tomb is listed as national heritage. It also got the term 'Galloping Horse Treading on a Flying Swallow'.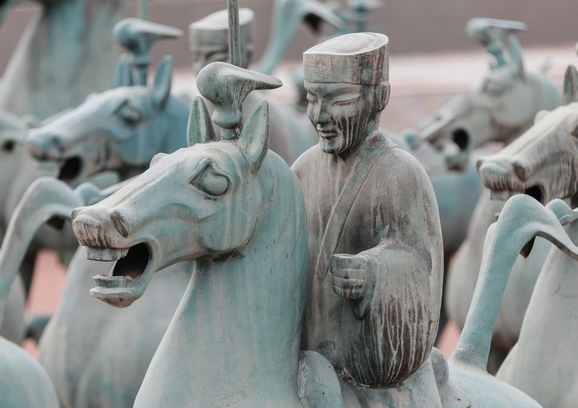 Han Tomb Park has a good environment, continue to visit you will see a huge square in the centre of the park. The square is the symbol of the whole martial arts - Copper galloping horse. Meanwhile, there are many bronze horses and chariots, which is very spectacular.
In addition, when you entering Thunder Platform Han Tomb, you can see the original tombs of the Han Dynasty, such as tombs, grave paths, and many other text instructions.

Basic Information
Location: Near Leitai East Road, Liangzhou District, Wuwei City, Gansu Province
Entrance fee: Free to enter the Leitai Park; CNY50 for the Leitai Han Tomb
Opening hours: 08:30am-18:00pm
How to get there: Leitai Park is located on Beiguan Middle Road, Wuwei City. You can take the city bus to reach your destination.