Grape Valley
Post Date: 2020/03/17 16:33
Share to:
Overview
Grape Valley is one of most popular places in Turpan. As Turpan is known as the "Land of Fruits", especially grapes. Turpan grape valley has become a unique tourist spot where visitors come to get refreshed and enjoy the different varieties of grapes. This highly cultivated green valley is located between the famous flaming mountains, about 10km north of the Turpan. The history of growing grapes is more than 3000 years.And the grape valley is famous for a variety of fruits, not only the grapes but also apricot, pear, melon and peach. And the fruits in this valley are actually sweeter than the others Areas of Xinjiang. July & August is the most busiest time during the year since it's the harvest time for grapes.
What to do in Grape Valley
The grape valley is not only for people who want to visit the Grape Plantation and taste the delicious fruits, the scenic area also built a unique amusement park and various tourist spots and resorts for tourists. There are various tourist villas, restaurants, gardens and shops where you can purchase grapes, jams and wine among other locally produced merchandises. There are some local carpets and handicrafts for sale, plus you can visit a handicraft factory and watch how these carpets are made. During the ancient times, traders passed this are as they went to the east and Turpan was the place where all the trades happen. Nowadays individuals who are tired after touring the desert come to enjoy the cool grape valley.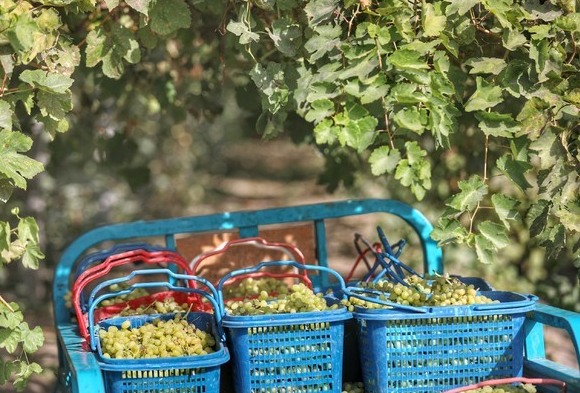 Best time to visit Grape Valley
The best time to visit Grape Valley is from July to September,the harvest time for the fruits.It is a time where there are just acres of grapes ready to be picked or dried. But in summer,a tour can also be enjoyed as a means to recover from the sweltering heat of the fiery mountains.

Basic Information
Location: About 10km north of the Turpan
Entrance Fee: 60CNY
Opening Hours: 8:00AM-21:00PM
How to get there:
1) Take bus No.5 to the Grape Valley from Turpan city center.
2) Take a taxi to the Grape Valley,it costs around 20CNY.