Apak Hoja Tomb
Post Date: 2020/03/18 12:25
Share to:
Overview
Apak Hoja Tomb is located in the east part of Kashgar city. In 1640, the Apak Hoja family built this tomb for themselves. As the largest Islamic mausoleum in China, the Apak Hoja Tomb covers an area of 20,000 square meters, composed of gate tower, great mosque, small mosque, scripture hall and main tomb chamber. The Tomb is the best example of Islamic architecture in xinjiang from the 17th century and it is a group of beautiful and magnificent buildings. Dome of the main tomb Hall is 17m in diameter which is decorated with green glazed tiles outside, the Hall is built without column and with the support of four pillars of the top. Outer walls of the Hall are decorated with four other colors besides green and more then 70 types of flowers and patterns of glazed tiles of blues, yellows, whites and some other colors were used.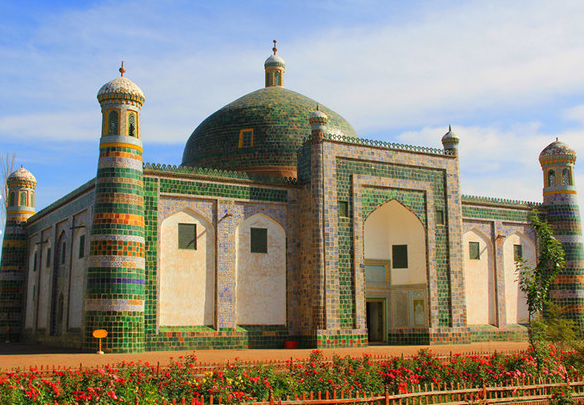 Story & History of Apak Hoja Tomb
There is a legend story about this tomb, it was related to the Hoja's descendants, a girl from thier family was once a concubine of Qianlong Emperor,which the emperor in Qing Dynasty. People called her "Fragrant Concubine" since the rich delicate fragrance of flower sent forth by her body. She was took back to Kashgar and buired in the Apak Hoja Tomb after she died.That's why the tomb also called " The Tomb of Fragrant Concubine".

According to the history record, the tomb was built in 1640 by the Apak Hojo Family. The first generation buried here was Yusuf Hoja, he was a celebrated Islamic missionary in Kashgar. After he died, his oldest son Apak Hoja carried on his father's work and became the leader of the famous Islamic faction of Baishan during the seventeenth century which seized the power of the Yarkant Court for a time. The son died in 1693 and also buried in this tomb, Apak Hoja died in 1693 and was buried in the tomb. His achievements and reputation was greater than his father's. The tomb called this name since people want to memory of him.It is said that five generations 72 people of his family members were buried.In 1956, the complex was restored to its 1874 appearance. That year, it was put under protection as a state cultural heritage site.

Story of Fragrant Concubine
One of the most famous stories that has come from this complex of ancient buildings concerns the Fragrant Concubine (also known as "Xiangfei"). This local Uyghur woman was so beautiful that she caught the eye of Qing Dynasty Emperor Qianlong in the 18th century.
The story goes like this: during Emperor Qianlong's quest to expand the borders of China he became entranced by the beautiful wife of his recently defeated Kashgar nemesis, a woman who was famed for the intoxicating scent her body gave off without the use of perfumes or powders. She was carefully transported to Beijing to become the emperor's newest concubine, reportedly wrapped in silks like a precious porcelain in a cart similar to the one you can see inside the mausoleum. According to the Chinese she was granted every one of her desires, including a miniature oasis outside her new quarters in the Forbidden City, until she eventually resigned herself to her fate. For the Chinese she is a symbol unity between themselves and their new territory, a place which around this time was renamed Xinjiang, or "New Frontier".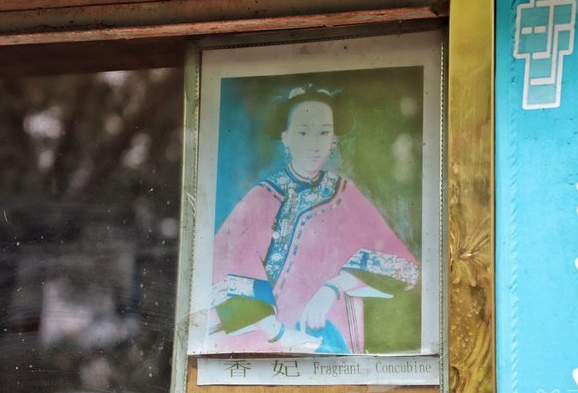 The Uyghur, insist on a different version. They remember Iparhan (her Uyghur name) forever pacing in the Forbidden City, never happy. When threatened by the emperor's mother to either resign to her fate or commit suicide, she boldly chose death over dishonor, a representation of the struggle the Uyghur face – even today – against Chinese rule.
What to see in Apak Hoja Tomb
The scenic spots can be divided into fours parts: The primary mausoleum (It is a green-glazed tile building and it's a good spot for taking photos); Four prayer halls; One lecture hall (It was used to be a place for Islamic education); A massive Uyghur cemetery: This cemetery used to surround the entire mausoleum but is now fenced behind it. Each building of the Apak Khoja Mausoleum is a veritable shrine to ancient Islamic architecture and Uyghur woodcarving whose colorful tiles and beautiful paint are slowly being lost due to neglect and insufficient funds. Apak Hoja Tomb is a set of very elegant and magnificent ancient building, 29 meters high, each corner was set up giant brick cylinder which embedded a half within the wall, and on the top of each pillar there is a delicate cylindrical "bunker building".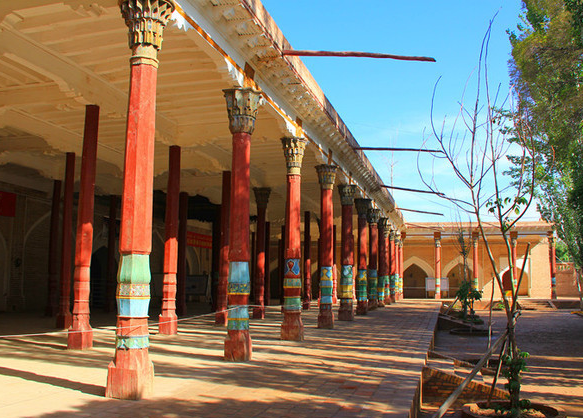 Basic Information
Location: Haohan Village, Kashgar City
Entrance Fee: 30CNY for main entrance; Extra cost for performance: 20CNY
Opening Hours: 10:30am-19:30pm (Available from Mon.-Sun.)
How to get there: 1) Take bus No.20 from Kashgar city and get off at "Xiang Fei Mu" Station; 2) Take taxi from Kashgar directly, around 5KM from city center.