Bailuyuan Folk Culture Village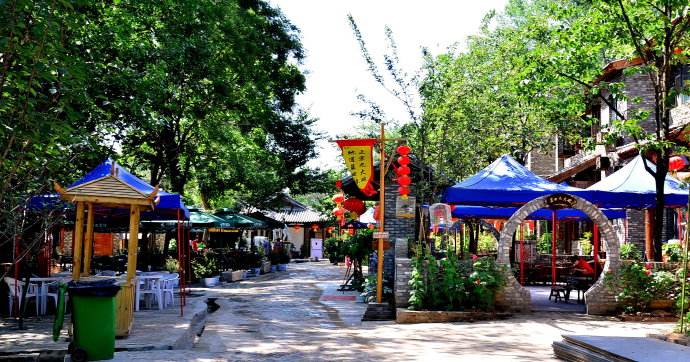 Bailuyuan Folk Culture Village, Xi'an Attraction
Breif Introdution
Bailuyuan Folk Culture Village is located in Binhe West Road, Lantian County, Xi'an City, with a total area of 1200 hectares and used an investment of 350 million yuan to built it. Bailuyuan Folk culture village is built in accordance with the Bailu original terrain, South Qinling, East Bahe, Shaanxi Province, Xi'an City, Lantian County three key construction projects. West blue expressway, 312 National Road, Guanzhong Ring Road, Shanghai Shaanxi high-speed pass through the whole territory, convenient transportation.
Bailuyuan Folk Culture Village retains the most primitive form of natural forest parks, shady trees, babbling streams, through archaic architecture, gourmet specialties, traditional arts and crafts performances in the form of a perfect presentation of the original flavor of the Guanzhong culture, is a collection of eco-tourism development, leisure vacation, folk customs experience as one of the comprehensive tourist resorts.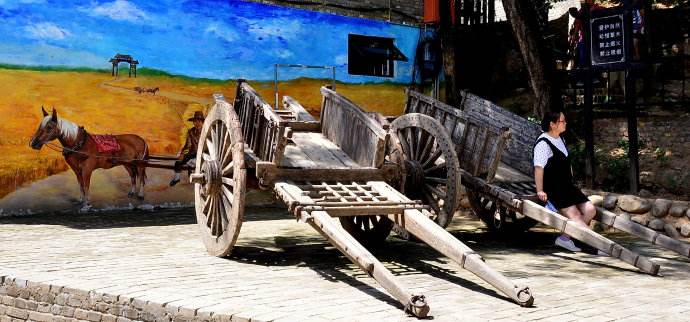 History & Background
Bailuyuan, also called White Deer Plain is 25 kilometers long, 8 kilometers wide, 260 square kilometers, 780 meters above sea level, more than 300 meters higher than Xi'an.
Because of the geological changes of hundreds of millions of years, the loess deposits formed, the original height is wide, the valley is wide, such as the Qinling Mountains stretching out its arms, protecting the ancient capital of Chang'an for thousands of years. King of Zhou moved to Luoyang, left Houjing and headed eastward. After crossing the Hushui River, he suddenly saw a white deer running on the original slope, which was auspicious. Since then, the Loess Tableland between the Chan Ba River was formerly known as the White Deer Plain ( Bailuyuan).
Main Highlights
Bailu Shenquan, Happy Farm, Poplar Yingbin, White Deer Elf, Ningxinhua, Bamboo Forest House, Yuquan Soup, Heart-Raising Fence, Heart-Raising House, Heart-Raising Forest, Heart-Raising Pavilion, Shadow-Heart Pond, Heart Bridge, White Deer Labyrinth, Lucky Deer Shadow, White Deer Terrace, Flower-Sea Maze, Ecological Parking lot, Sunshine Sunflower Garden, Cedar, Zoo Paradise, Sahuan Garden, Labor Garden, Happy Farm Service Center, White Deer Farm, Fruit and Vegetable Garden, Wheat Pallets Style, Mouth Laughter, Wanle Men, Wanle Pool, Wanle Ancient Huai, Wanle Parking lot, Chinese Culture Experience Center, Eco-bicycle.
Cherry Picking
In every May, the Cherry Orchard is filled with a large number of visitors who come to pick and taste the cherries here. The tastiest cherry in the orchard is on the slope of the Plain's north side. After experiencing picking cherries in person, then you can also go to the farmhouse to enjoy the healthy and delicious farm food. You need pay for the cherries you pick.
Bailuyuan Studio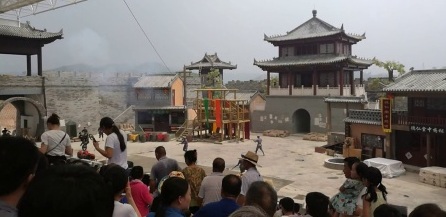 Bailuyuan Studios houses many visiting zones to present the buildings, history and folk customs of the central Shaanxi area, for instance, ecological view zone, children's entertainment zone and White Deer Village. Lots of famous movies and TV Series like Song of the Phoenix, Mao Zedong and White Deer Plain were shot here. In addition, it has five ancient forts around as its important landmark spots. Standing under the wall of five forts, you may feel the magnificent war scene in ancient times. Besides, there is a slide program for visitors to go downhill, during which you can admire the beautiful natural scenery of the whole scenic zone.
Bailuyuan Skiing Resort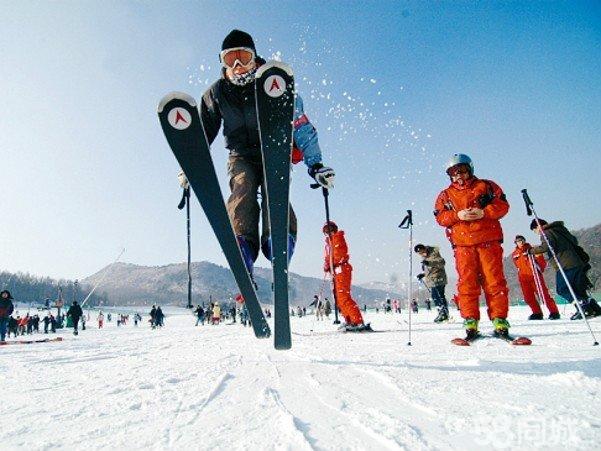 Bailuyuan Skiing Resort is located about 18km away from Xi'an downtown, it showcases a 300m in length and 60m in width skiing trail. Bailuyuan Skiing Resortis the only one skiing resort runs day and night, house the complete skiing facilities, the good-quality service and various skating projects. The most suitable ratio of slope allows the visitors to glide an S route without supporting poles. It's an excellent exercise place for no matter primary skiers or intermediate skiers, not only enjoy the luxuriant pleasure of skiing, but also appreciate the boundless magnificent snow scene. Morevoer, it's also a paradise for Children who enjoy playing with snow.
Information
Admission Fee: Fee
Location: An'cun town, Lantian County, Xi'an
How to get to Bailuyuan Folk Culture Village
1). Take bus No. 910 and get off at North An'cun stop
2). Take bus No. 926 and get off at Lantian bus station and take shuttle bus from Lantian and get off at North An'cun stop