What to see in Dunhuang
Post Date: 2020/03/12 11:38
Share to:
Overview
Dunhuang is one of the most famous tourist cities in Northwest China. Dunhuang has become a popular holiday destination because of the ancient silk road trade route. The important geographical and gateway for the integration of ancient Eastern and Western cultures created the irreplaceable position of Dunhuang.
The city was founded by Emperor Wudi of the Han dynasty in 111 BC at the cross roads of two trading routes on the Silk Road, and the name 'Dunhuang', meaning to'to flourish and prosper,' gives some indication of the town's prominence in ancient China. It is much less important today. Thus, Dunhuang is the must see city for travelers to get close to know Chinese silk road history, UNSCO cultural sites.
Below are the major renowned historical and modern attractions in and around Dunhuang!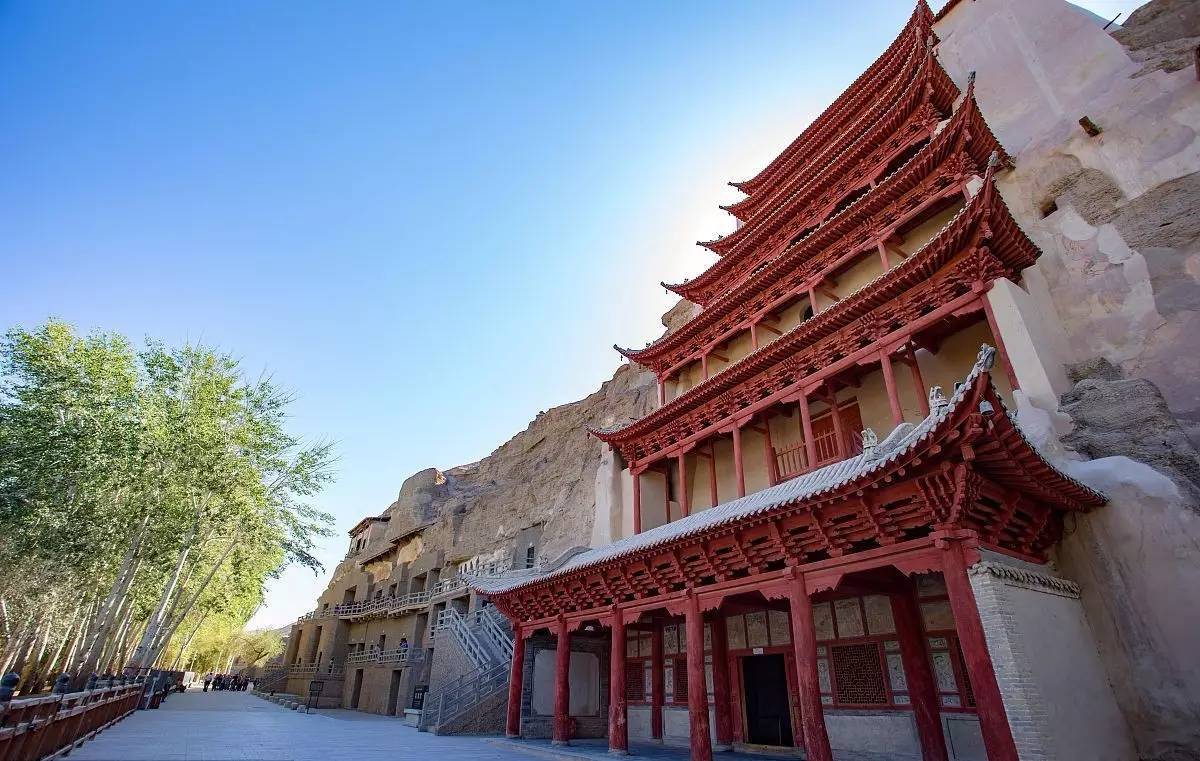 Mogao Caves
Mogao Caves were the cultural center of the Silk Road from the 4th century to the 14th century. At the same time, it is also an important religious art for the spread of Buddhist culture. There are about 600 surviving cave temples, of which 30 are open to the public. Before Buddhism introduced into China from India, Chinese temples were built of wood. The tradition of cave temples originated in India, because of the poverty and lack of important building materials, people have to find ways to replace temple buildings.
Dunhuang is one of the most important transportation routes along the silk road. All pilgrims, monks and scholars who pass through the silk road will settle here for meditation and Buddhist scripture translation. In addition, many businessmen will stop at Mogao Grottoes. According to legend, the first cave was established in 366 AD by the Buddhist monk Lie Zun (or Lo-tsun), who had a vision of a thousand Buddhas. He convinced a wealthy Silk Road pilgrim to fund the first temple, thereafter many followed his example. This laid the foundation for a large number of Buddhist works of art in Mogao Grottoes.
In nowadays there were originally about 1,000 Buddhist cave temples at Mogao, over 600 of which survive. About 30 caves are accessible to the public, but visitors cannot usually manage to visit more than 15 in a day.
Info
Best Seasons to visit: Summer/Autumn
Recommended Visiting Time: 3-5 hours
Opening Hours: 07:30-15:00 (Apr-Nov); 08:30-15:00 (Nov-Apr)
Admission Fee: Peak Season (Apr-Nov): CNY238-CNY50;Off Season (Dec-Apr): CNY140-CNY40
Address: Mogao Town, Dunhuang 736200, China
How to get there: Mogao Caves are 25 kilometers away from Dunhuang. You can get there in 30 minutes by taxi.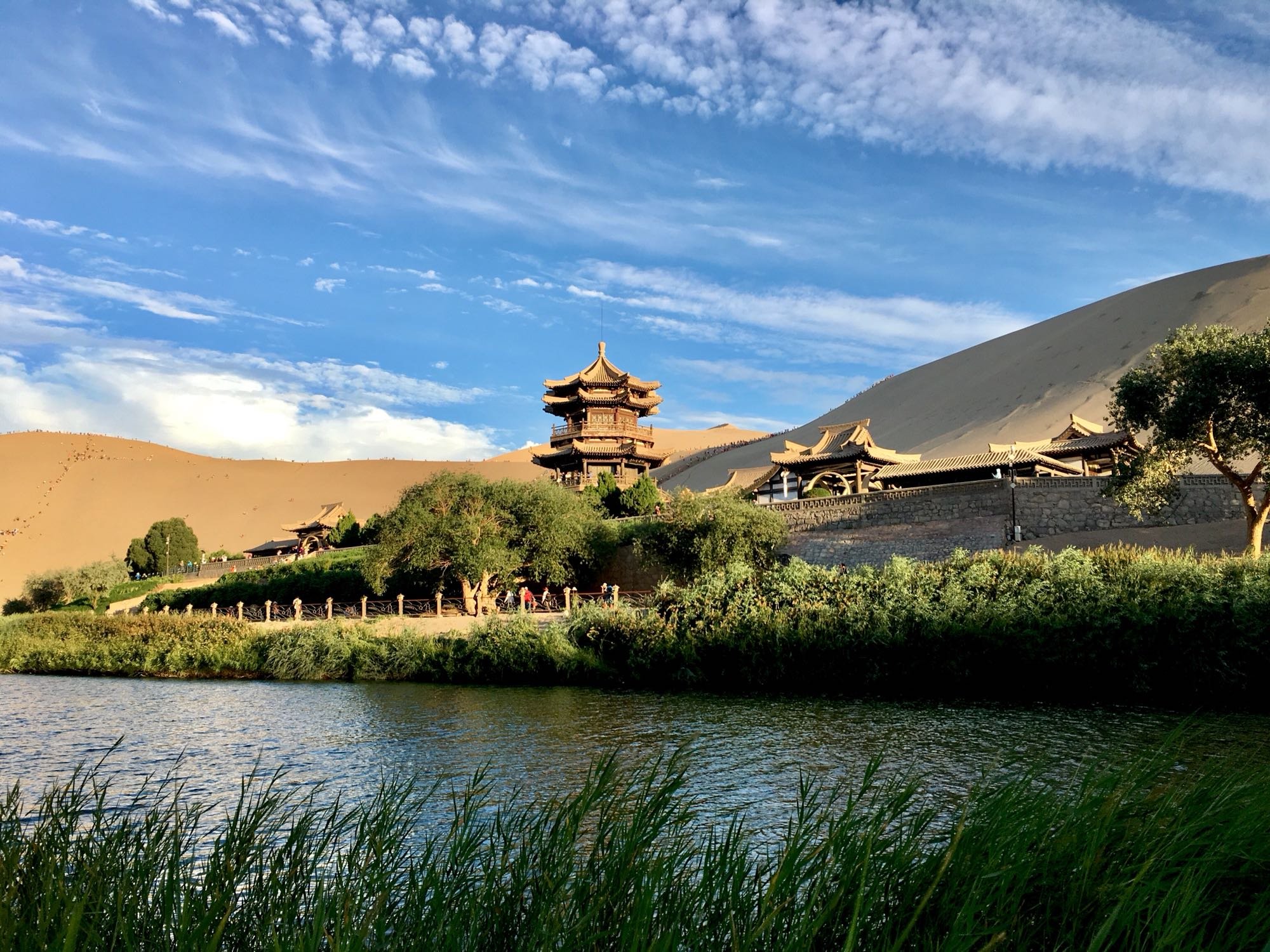 Crescent Moon Lake
Crescent Moon Lake, called as Yueyaquan in Chinese. Yueyaquan is a crescent-shaped lake in an oasis, 6 km south of the city of Dunhuang in Gansu Province, China. It was named Yueyaquan in the Qing Dynasty. According to measurements made in 1960, the average depth of the lake was 4 to 5 meters, with a maximum depth of 7.5 metres (25 ft) In the following 40 years, the depth of the lake continually declined. In the early 1990s, its area had shrunk to only 1.37 acres (5,500 m2) with an average depth of 0.9 meter (maximum 1.3 meter).
In 2006, the local government with help of the central government started to fill the lake and restore its depth; its depth and size have been growing yearly since then.
Info
Best Seasons to visit: Summer(June-August)
Recommended Visiting Time: 3 hours
Opening Hours: 05:00-20:30
Admission Fee: CNY110 (May-Oct); CNY55 (Nov-Apr)
Address: Yueya Town, Dunhuang 736200, China
How to get there: You can take Dunhuang Bus No. 3 to Yuyaquan (Crescent Lake), or taxi from Dunhuang downtown. Costs: CNY20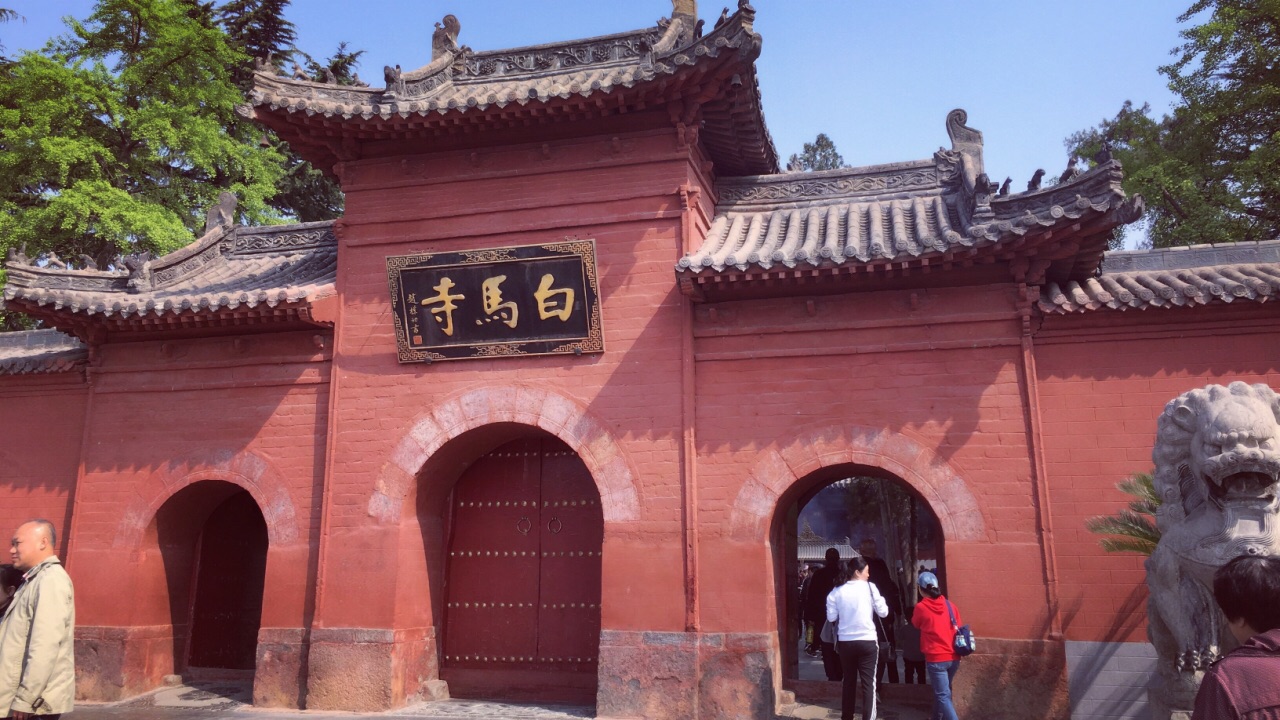 White Hourse Pagoda
Hence its name, the White Horse Pagoda was built by an eminent monk to commemorate a white horse in 386 AD. Situated in Baimata Village, 2 kilometers (1.2 miles) to the south-west of Dunhuang. With a history of over 1,500 years, it is an important part of the Silk Road. It has nine-storage, with a height of 12 meters and a width of 7 meters.
Background
In South and the North Dynasties, an Indian Buddhist master called Jumoloce riding a white horse with some scriptures came along the Silk Road to China to spread Buddhism. When he arrived in Dunhuang, his horse became ill and died. The monk was very sad, he found a vacant land and buried the horse in Buddhist custom. Then he went on his journey eastward to preach and spread the Buddhism. Local people later built a pagoda called the White Horse Pagoda close to the place where Jumoloce buried his horse to commemorate this Buddhist Master.
Info
Address: Bai Ma Ta Village, Danghe Town, south of the Dunhuang City. It is about 2 kilometers away from the center of the city.
Admission Fee: CNY 15
Opening time: 8:00-18:00
How to get there: 2 kilometers from the downtown Dunhuang. so you can take a taxi.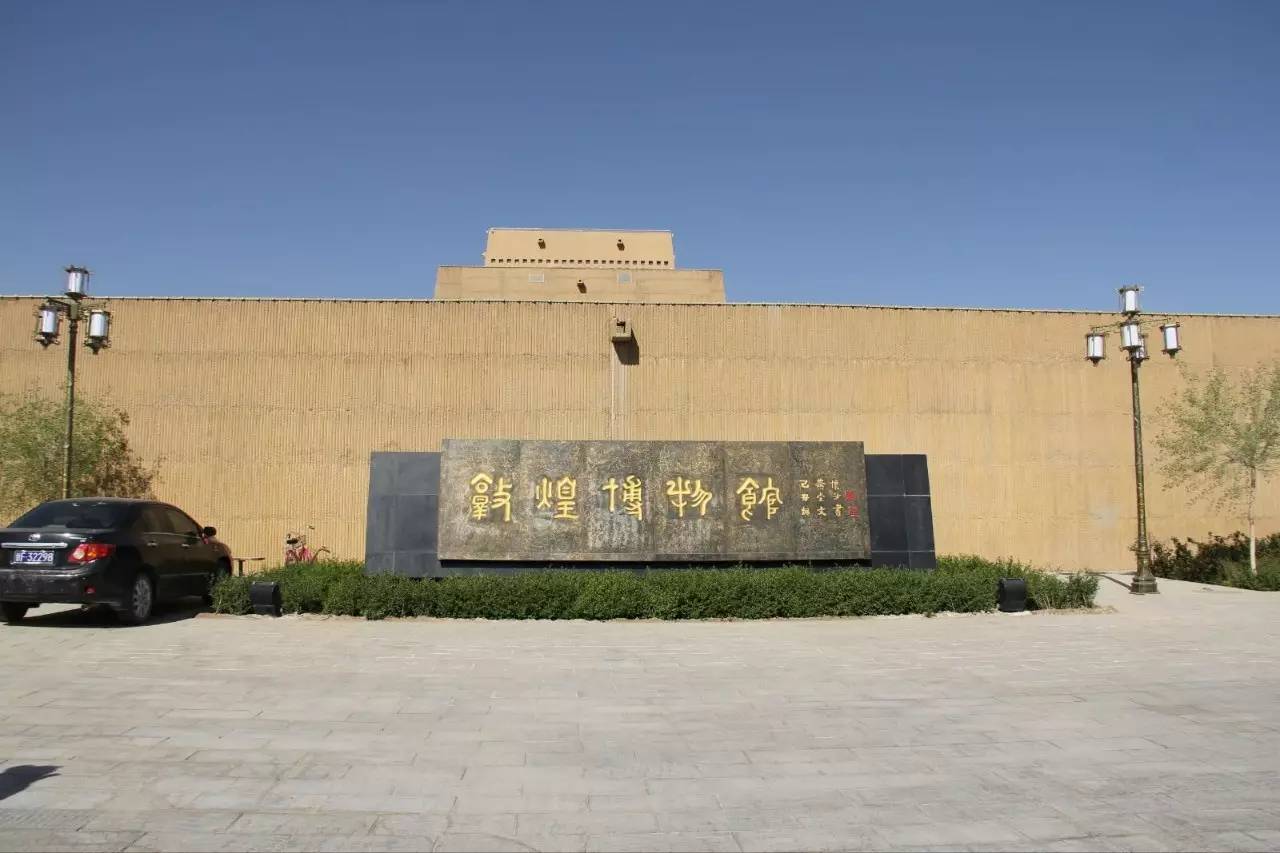 Dunhuang Musem
Dunhuang museum is located in the center of Dunhuang. Covering an area of 2400 square meters. There are a large number of cultural relics in the museum, in order to show future generations the prosperity of the Silk Road and the historical background of the development of Buddhism in China.
Dunhuang museum exhibits are divided into three parts. The first part is the scriptures of the N0.17 cave of Mogao caves in Dunhuang. Buddhist scriptures are the real evidence of Buddhist activities in Chinese history. The second part shows the cultural relics excavated from the tombs of Han Dynasty (206b-220 B.C.), Jin Dynasty (265-420 A.D.), Sui Dynasty (581-618 A.D.) and Tang Dynasty (618-907 A.D.). In the third part, there are many exhibits showing the prosperous culture of Dunhuang, including some exquisite silk brocade and bamboo slips for writing. In addition, the Dunhuang museum also displays iron bronze tools and weapons.
Info
Address: It is located on the East Yangguang Road in Dunhuang City.
Admission Fee: CNY 15
Opening time: 8:00-18:00
How to get there: 2 kilometers from the downtown Dunhuang. so you can take a taxi.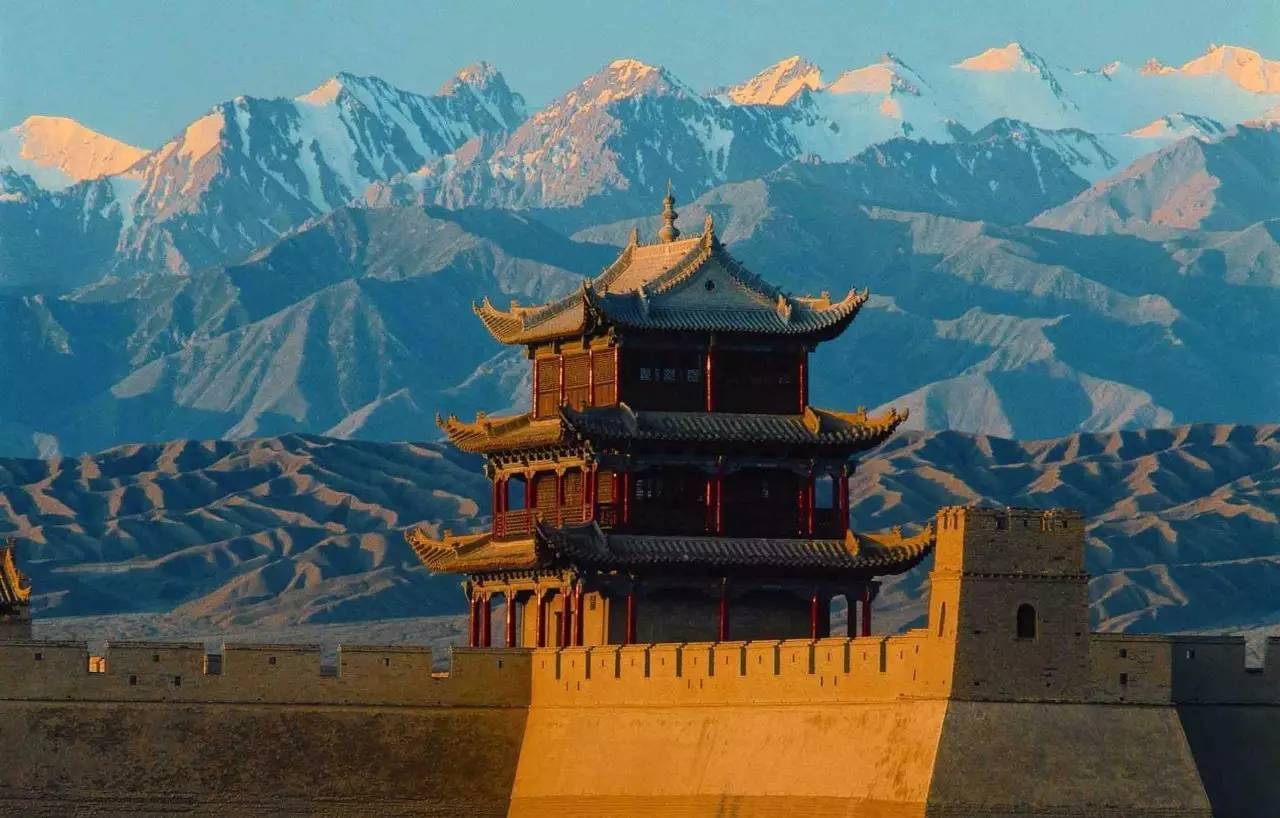 Yumenguan Pass
Yumenguan Pass, also called Jade Gate Pass, is situated in the western area of Dunhuang, about 59 miles away from the downtown. Yumenguan pass was once an important military pass and pass on the Silk Road in the legend. It was called "Yumenguan pass" in the Western Han Dynasty. Only through this pass can the jade in the western region be brought into China, hence the name "Yumen pass".
Around Yumen pass stands the best preserved Great Wall of the Han Dynasty. The remaining loess ramming fort at the original pass covers a total area of more than 630 square meters, with the ancient Great Wall outside the north gate and a wasteland outside the west gate.
Info
Address: It is located on the East Yangguang Road in Dunhuang City.
Travel Tips: Located in the Gobi desert, there are no dinning or lodging areas close to the attraction. Visitors have to stay and dine in Dunhuang City.
Recommended Visiting Hours: 1-2 hours
Best time to visit: May-Oct
How to get there: Since it is far from Dunhuang City, it is better to rent a car.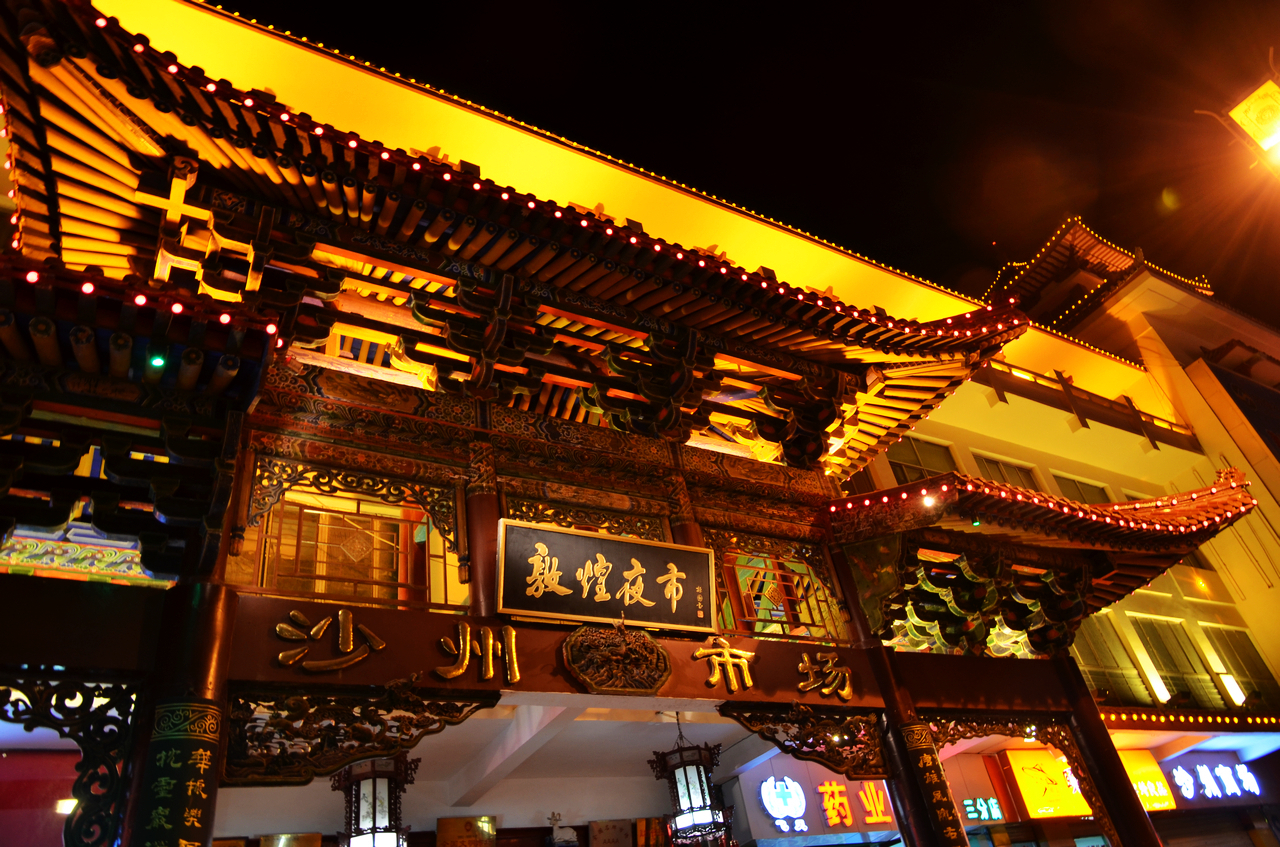 Shazhou Night Market
A must-see in Dunhuang is the Shazhou night market, this night market is the biggest open-air market of Dunhuang. You will find crafts, antiques, jade jewels, jade objects, tea but also local products, as well as the folklore items from different ethnic groups of China. An evening stroll through the intricate and crowded alleys of the market lit up for the evening is a taste of the city's culture.
The best time to come here is around dinnertime, so that you can enjoy a pleasant walk and taste some of the local delicacies. Some suggestions on what to eat in Dunhuang can be found under the Food and Typical Products heading: keep reading on to discover what to try at the night market!
Info
Best Seasons to visit: All Seasons
Recommended Visiting Time: 2 hours
Opening Hours: 24 hours
Admission Fee: Free
Address: Dunhuang City, Gansu Province, China 736200
More Things To Do In And Around Xi'an
Museums
Xi'an has a long and profound history. People often say: two decades to see China is Shenzhen; one hundred years to see China is Shanghai; one a thousand years to see China is Beijing, while China five thousand years to see China is Xi'an. Below are many types of museums, including art museums, natural history museums, science museums, etc to help you know Chinese history and the city of Xian in-depth.
Historical & Cultural Sites
As one of the oldest cities in China, Xi'an is the oldest of the Four Great Ancient Capitals, having held the position under several of the most important dynasties in Chinese history, including Western Zhou, Qin, Western Han, Sui, and Tang. Xian is the cradle of Chinese civilization, and the home to the Terracotta Army of Emperor Qin Shi Huang. Xian have endowed the city with an amazing historical heritage and cultural sites, such as Big Wild Goose Pagoda, Xian Ancient City Wall, Bell Tower, etc.
Scenery, Parks & Lakes
Over centuries, Xian was not only ancient capital but also the imperial burial grounds for different dynasties. So There is no wonder why numerous treasures are found here. The feature of Xian is the combination of monuments, being evidence of intense human activity, and beautiful natural scenery & parks, as well as the combination of a specific character of an ancient capital and the features of a modern city.
Temples & Mosques
With more than 3000 years of history including over 1100 years as the capital city of ancient dynasties, Xian is an important site for religions. It is said that temples in the city is a reflection of the religious situation in China. There are many kinds of temples in Xi'an, indicated different religions: Buddhism, Daoism, Islam, Christian and Roman Catholicism. Below are religion sites for you to know about the religious situation in Xi'an.