Unique way to showcase treasures
Post Date: 2018/06/08 10:14
Share to:
The private Xi'an Qujiang Museum of Fine Arts is a trailblazing institution in many ways, especially when it comes to displaying murals.
In October 2011, when Zhou Tianyou became director of the Xi'an Qujiang Museum of Fine Arts, he had big plans for it. So when it officially opened to the public on July 31, 2012, he curated an exhibition displaying ancient Chinese murals.
Titled Origin and History of Ancient Chinese Murals, the permanent exhibition in a 1,000-square-meter hall features 88 panels (67 panels are original) from the Neolithic period to the Qing Dynasty (1644-1911).
With murals unearthed in Shaanxi province serving as the main foundation, the exhibition is also the result of partnerships with about 20 national museums and archaeological institutes from 13 Chinese regions and provinces, including the Palace Museum in Beijing, the Liaoning Provincial Museum, the Gansu Provincial Museum and the Gansu Provincial Institute of Archaeology.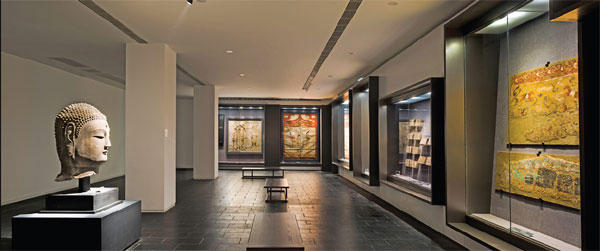 At the museum, visitors can see murals, such as a piece titled Dancing Men from the Neolithic age (from the Gansu Provincial Museum) and an approximately 1-meter-tall stone Buddha head.
So how does this kind of art display influence visitors?
Zhou, 74, says, "When viewers see the murals, they not only appreciate the beautiful paintings, but also understand the lifestyles of people from different Chinese dynasties."
Pointing to two murals, which depict livestock trading from the Northern Wei Dynasty (386-534), he says, "The murals, which have vibrant scenes of daily lives, are a different way to communicate."
Unique way to showcase treasures
Murals have a long history in China, says Zhou, adding that the art form advanced remarkably in the Han Dynasty (206 BC-AD 220). But he says that it reached its first peak in terms of style, technique and subject matter in the Tang Dynasty (618-907), when China enjoyed national unity, economic prosperity, cultural advancement and increased exposure to foreign cultures.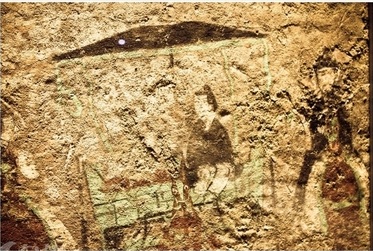 He says murals were commonplace in Tang imperial palaces, high-ranking officials' residences, and Buddhist and Taoist temples and caves. The murals portray various subjects, such as mysterious creatures, animals, architecture, religion as well as everyday life, he adds.
Speaking about the museum, he says: "Its function is to make history relevant for everyone who visits, and to make each individual think about how that knowledge can be relevant in his life. Murals are easy to understand and they explain a lot."
Meanwhile, Zhou also set up the Mural Conservation and Restoration Center at the Xi'an Qujiang Museum of Fine Arts, in cooperation with the Shaanxi Provincial Institute of Archaeology, to conserve, research, re-stores and exhibit ancient murals. From 2010 to 2017, the center restored 16 murals from the Ordos Bronzeware Museum of the Inner Mongolia autonomous region.
"The murals from Ordos are priceless, as they contain information about the cultural exchanges between the nomadic people and Western countries," says Zhou, adding that one mural from the Han Dynasty, titled Hunting, depicts a man sitting in a carriage to go hunting.
"The techniques used in these murals were three-dimensional, rather than the two-dimensional art style of traditional Chinese painting. And it is believed that the three-dimensional technique was brought in by Western travelers," says Zhou.
Speaking about the center, 30-year-old Li Sen, one of the three artists who work there, says, "Usually it takes months and sometimes years to re-stores one mural."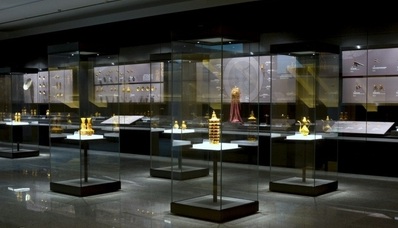 Li, who was born in Yulin, Shaanxi province, joined the center five years after graduating from Shaanxi Conservation College. Now he and his team members are involved in a project to re-stores a mural from the Qing Dynasty that is 4 meters tall and 3 meters wide.
Giving details about his work, Li says: "One of the most-used tools (in the restoration process) is the surgical blade. And restoring murals is like being a doctor doing a surgery. So when you save a damaged mural, you feel contented and excited."
Li also says he joined the center because of Zhou, who gave lectures about the mural project when Li was a college student.
For Zhou, recounting Chinese history using murals has always been a passion.
He says that Shaanxi province is home to the largest number of murals in China, adding that the Shaanxi History Museum had more than 540 murals in the 1990s.
When he was director at the Shaanxi History Museum from 1995 to 2004, Zhou wanted to launch a mural exhibition like the one at the Xi'an Qujiang Museum of Fine Arts, but failed to do so.
At that time, it was quite controversial to move murals from their original locations, such as tombs and temples. And the techniques of restoring and protecting the murals were not so developed.
"Now changes in air quality, temperature and humidity are closely monitored to prevent damage to the murals," he says.
Zhou, who was born in Zhuji, Zhejiang province, moved to Tianjin along with his family at the age of 6.
He graduated with a bachelor's degree in history from Nankai University in 1968, and then taught history at a middle school in Longjiang county in Heilongjiang province for four years before being transferred to teach in a middle school in Xi'an, Shaanxi province, for six years.
In 1978, he enrolled to study history at Northwest University in Xi'an, where he later taught and headed the Research Institution of Ancient Books and the library of the university.
Later, he became director of the Shaanxi History Museum.
Moving to a private museum was a challenge for Zhou - especially when it came to fundraising. Unlike national museums, which enjoy governmental support, private museums have to raise funds on their own.
But thanks to the local government of Xi'an, which supports the growth of private museums, the future of the Xi'an Qujiang Museum of Fine Arts is bright, says Zhou.
And with his experience of working in museums over the past four decades, Zhou says he aims to bring the museum on par with its national counterparts.
One of his plans is to build the institution as a platform for international communication on murals.
So, in 2013, the museum launched the Qujiang Mural Forum.
The event, which is now held every two years, attracts mural experts from such countries as Japan, Italy, Russia and Australia to discuss issues like the role and impact of murals on cultural development in relation to countries along the Silk Road.
The location of the museum, which is in the center of Xi'an and near the famous Dayanta Pagoda, also helps.
The museum, which is housed in the Westin Xi'an Hotel, is one of the first private museums in China to combine its operations with an international five-star hotel.
Separately, the museum also has two other exhibitions: Royal Gold Wares of the Ming Dynasty and Imperial Kiln Bricks of the Forbidden City and The Ordos Mongolian History and Culture of Genghis Khan. Previous exhibitions included silver plates and ceramics by Pablo Picasso, 19th-century Dutch oil paintings, and ceramics by Manufacture Nationale de Sevres of France.
In August, the museum will host an exhibition titled Royal Gold Wares of the Ming Dynasty, which will showcase over 150 items at the National Museum of Slovenia.
"This will be a breakthrough for private museums in China - holding an independent exhibition abroad," says Zhou.
----Article From China Daily