Subway keeping history on track
Post Date: 2018/06/27 16:27
Share to: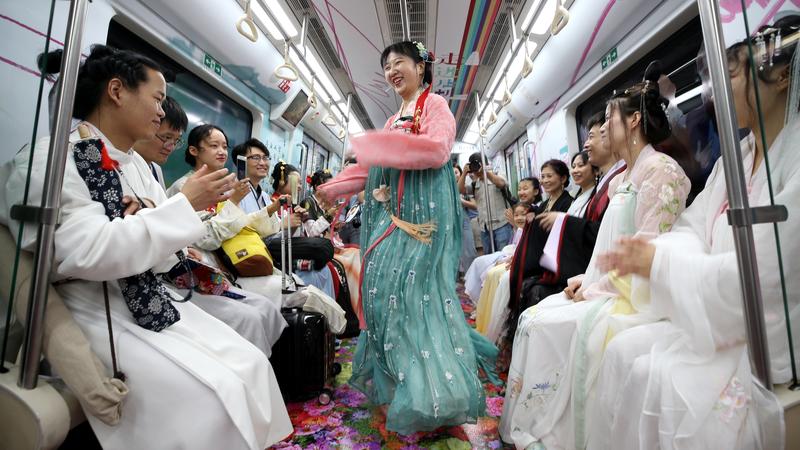 Six subway carriages adorned with artwork inspired by poetry from the Tang Dynasty (618-907) began rolling in and out of stations along a line in Xi'an, capital of Shaanxi province, on Monday, to celebrate the city's history and culture.
This year marks the 1,400th anniversary of the city, known as Chang'an when it was designated as the capital of the Tang Dynasty in 618.
The newly decorated carriages - with colorful lettering on the outside proclaiming that passengers are about to "Enter the Tang Dynasty" - each highlight a theme selected from classic Tang poems to illustrate the multifaceted charms of that era.
Three-dimensional images, traditional Chinese paintings and modern-day comics cover the walls and floors of each carriage's interior to help create an immersive experience for passengers.
On their maiden journey along Line 2, which runs north-south through the ancient city, subway riders waiting at Beikezhan Station - the line's northern terminus - were welcomed by Tang Dynasty enthusiasts dressed in period costumes.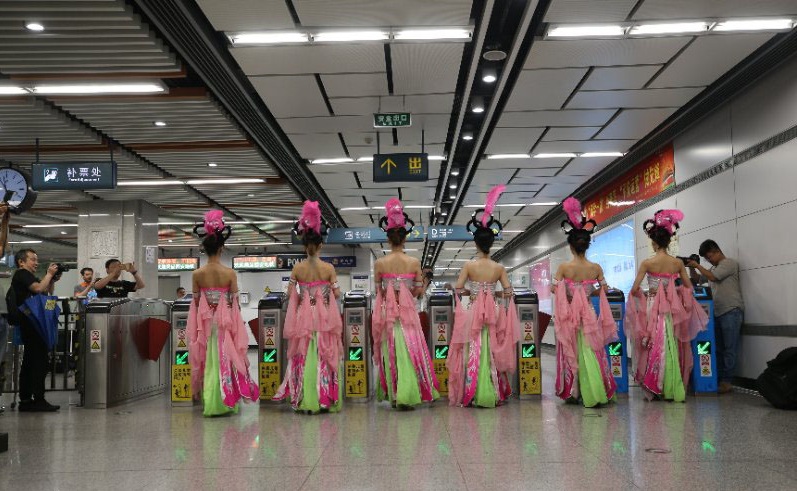 Volunteers recruited online also performed traditional Tang dances on the platform at Anyuanmen Station, one of the line's busiest stations.
Within two hours of the initial journey, short videos of the train had topped 5 million clicks on video-sharing app Douyin, with more than double that across all online platforms.
The period decorations were created by artists under the guidance of experts from Northwest University in Xi'an, said Chen Hongchao, office director of Xi'an Metro Co.
"Nowadays, many people - especially younger generations - are obsessed with mobile phones and computer games," Chen said.
"We hope to promote awareness of Xi'an's traditional culture and Tang poetry through this campaign."
Xi'an is one of the "four great ancient capitals of China", along with Beijing, Nanjing and Luoyang.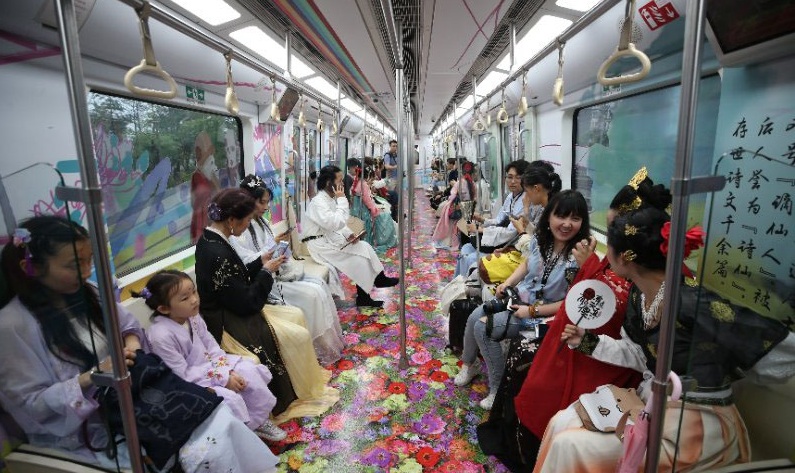 "The special train is expected to run through the end of this year. We are planning to launch more decorated subway cars if this one is well received by citizens," Chen said.
Back in September 2015, the Xi'an Metro gave one of its subway cars a makeover on the International Day of Peace. This helped revive stories of the ancient Silk Road amid the urban hustle and bustle of daily subway commutes.
A few cities in China have recently transformed interior designs of subway cars as part of publicity efforts to enhance cultural awareness.
For example, Chengdu, Sichuan province, launched a book-themed train in April that narrated the evolution of the forms of books in China - from ancient bone carvings to modern methods of enjoying the written word.
Wang Xiaoyu contributed to this story.
---- From China Daily