More high-speed rail links to airports ahead
Post Date: 2020/05/28 10:07
Share to: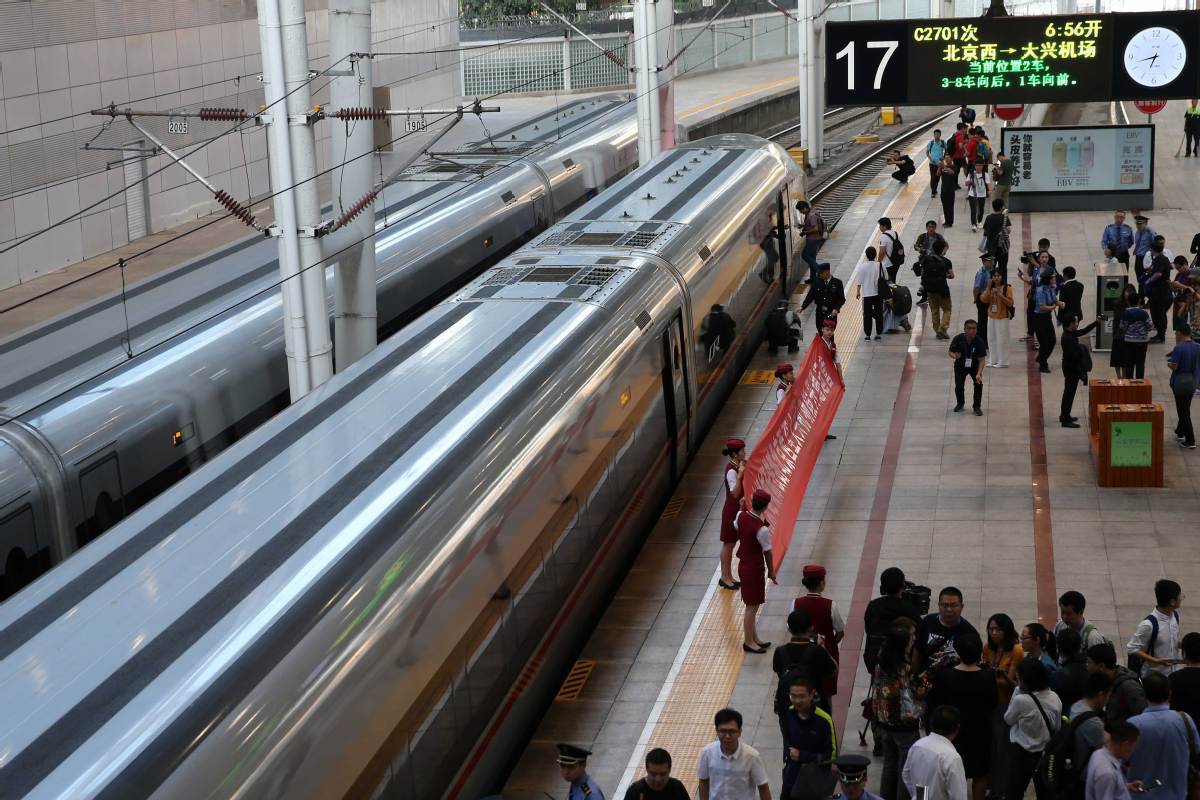 A number of high-speed railways will be built this year to link airport hubs with surrounding areas, which experts said will facilitate the coordinated development of city clusters and better meet people's burgeoning demand for air travel.
A notice issued recently by the National Development and Reform Commission said that both international and regional airport hubs should be connected to the country's vast railway network to extend their reach up to 1,000 kilometers and 500 km, respectively.
The notice includes a list of 11 existing international and regional airport hubs that are to be linked by new high-speed railways or urban rail transit systems.
Among 11 projects, seven are international airport hubs in Beijing and Shanghai, as well as Shenzhen in Guangdong province, Xi'an in Shaanxi province and Kunming in Yunnan province. The other four are regional airport hubs in Xiamen in Fujian province, Changsha in Hunan province, Lanzhou in Gansu province and Tianjin.
In Beijing, an intercity rail line has been approved by the commission to link Beijing's two international airports-Beijing Capital International Airport and Beijing Daxing International Airport-with Langfang, Hebei province. The rail line's construction will kick off this year, according to the commission.
Construction of a new railway linking Daxing airport and neighboring Tianjin will also start this year. Upon completion, the line will be the fourth high-speed railway connecting Beijing and Tianjin.
In Shanghai, a rail line linking its Situan township with Taicang of Jiangsu province has started construction, which will include Shanghai Pudong International Airport in the railway network for the first time.
Shanghai Hongqiao International Airport, which is already part of a comprehensive transport hub that includes a high-speed railway station and a long-distance bus station, will see itself connected by another high-speed railway that connects Suzhou, Jiangsu province, and Huzhou, Zhejiang province. Already endorsed by the commission, the railway is slated to start construction this year.
The commission said in the notice that efforts should be made to promote the mutual recognition of airport and railway two-way security checks and simplify transfer procedures between the airport and the rail transit in a bid to provide a convenient travel experience for passengers and optimize flight check-in services in the rail transit stations.
Experts said that once completed, the 11 projects would enhance the mainland airport hubs' capacity to offer fast and comfortable air traffic.
According to the latest statistics from the Civil Aviation Administration of China, the nation had 238 civil airports by the end of 2019, including 39 each with annual throughput exceeding 10 million passengers.
Last year, the country's civil aviation industry handled 660 million passenger trips, a year-on-year increase of 7.9 percent, and air traffic contributed 32.8 percent of passenger turnover in China's comprehensive transport system, according to the administration.
But the existing airports, less than half the number of airports in the United States, are unevenly distributed throughout the country, making them incapable of satisfying the vast market and fast-growing travel needs, said Li Xiaojin, a professor of aviation economics at the Civil Aviation University of China in Tianjin.
Improving rail connections at airport hubs will, to some degree, erode the current geographical imbalance by allowing more passengers to save time and money going to the hubs, he said.
Citing a forecast by the International Air Transport Association that China, currently the world's second-largest civil aviation market, is expected to exceed the United States and become the world's largest by the mid-2020s, Li also noted that upgrading airports into comprehensive transportation hubs with wider coverage and higher speed will also raise its global competitiveness.
Feng Kui, a researcher at the China Center for Urban Development under the commission, agreed, adding that the more integrated transportation network brought by these projects will benefit a more balanced regional development, especially in city clusters such as the Beijing-Tianjin-Hebei region and the Yangtze River Delta region.
The convenient transport facility will boost the flow of labor and information and inject new impetus to less-developed cities surrounding the hub and thus further coordinate the development of cities and bridge the development gap in many areas, he added.
-------------------Article From China Today