Lanzhou Dining
Post Date: 2020/03/13 16:19
Share to:
Overview
The food in Lanzhou is quite unique compared to other parts in China, the food was influenced by Hui People. When people talk about lanzhou, they may think of the beef noodles. In fact, Lanzhou has many other local delicacies that cannot be tasted in other places. Lanzhou is the capital city of Gansu Province and the dishes here are representative of Gansu cuisine which features the roasting, steaming, and braising of beef and mutton. Lanzhou people enjoy many tastes including salty, fresh,tart,and spicy. Gansu cuisine can be sampled at various hotels in Lanzhou.

What to eat in Lanzhou
Lanzhou Beef Noodles (niú ròu la miàn)
Lanzhou Beef Noodles is one of the most famous noodles and you can find lots of noodle shops named" Lan Zhou La Mian" in China. When you in lanzhou, you must try to eat the noodles. The noodles are always hand made, and the broth served hot and spicy with as much beef as you care to pay for.

It was first created during the reign of Emperor Guangxu, Qing Dynasty (1616 - 1911) and it is now popular all over China. This dish has five main features: clear soup, white radish, red pepper, green caraway and yellow noodles. The noodles can be wide or slim to meet different preferences. Boys like er xi (a little wider) while girls like slim ones, the middle-aged and the old like leek leaf and slimmer and scholars prefer slim and jiuyezi. Farmers, soldiers and workers prefer wide or even wider. If a girl or an old man asks for wider noodles or a boy asks for maoxi noodles, it would be rather strange. The noodles have gone beyond food to become a culture.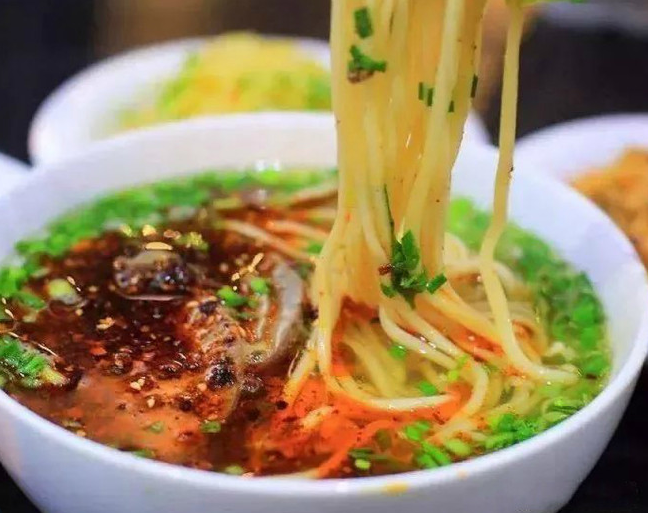 Lamb skewers
Although this isn't a typical dish from Gansu, the skewers here are worth trying, as the quality of the meat is much better than in the eastern part of the country.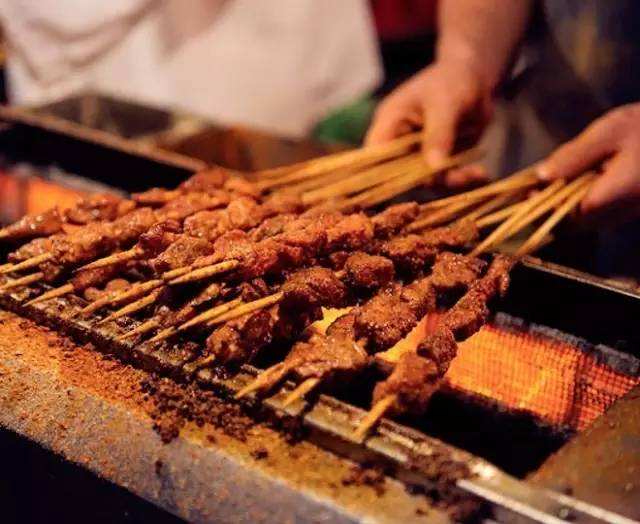 Grilled Naan
As rice and noodles are staples in most Chinese restaurants, it's always refreshing to have some tasty, spicy, grilled naan bread to enjoy your meal with. You can dip it, cover it, or just eat it on the side. Make sure you order up a few plates of this stuff!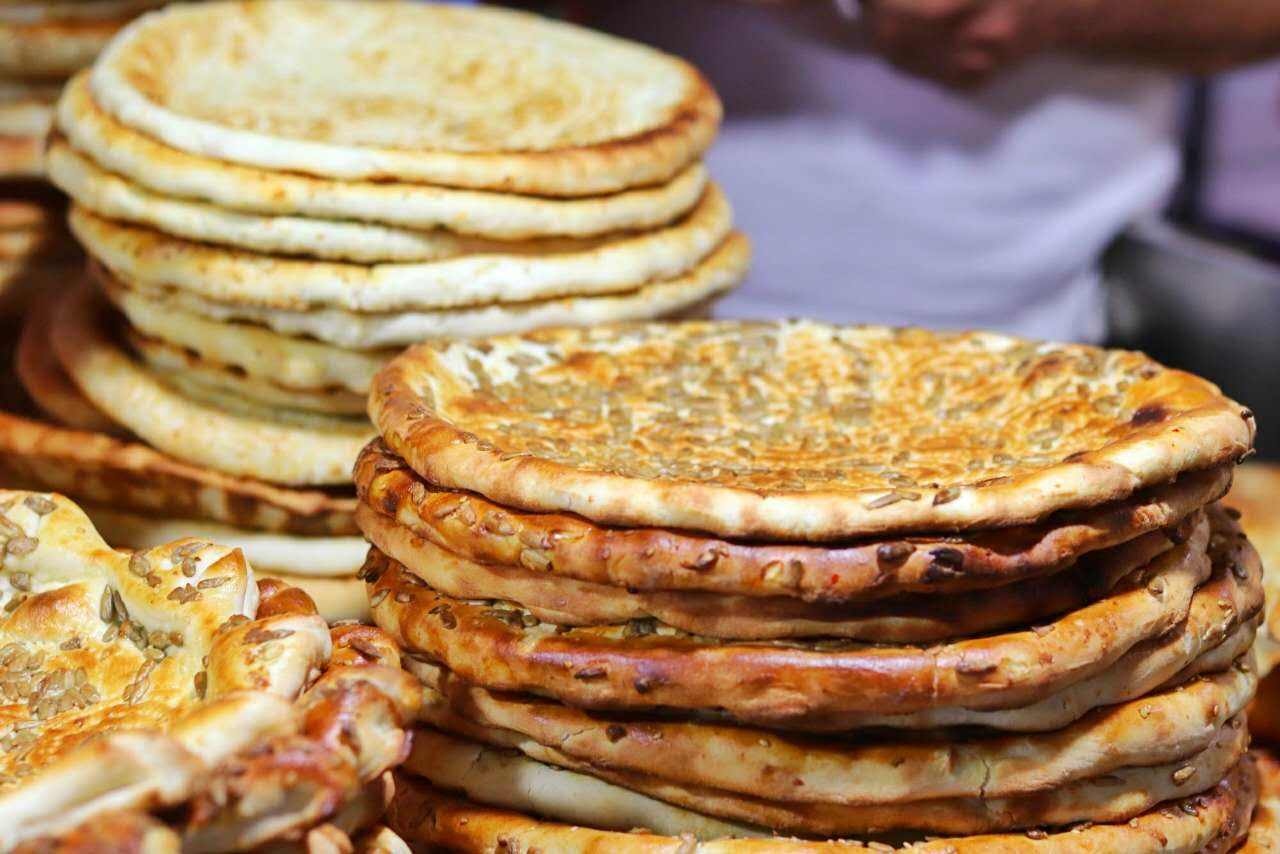 Big Plate Chicken
The shining star of this cuisine and the main event of any dinner in a Lanzhou restaurant, the "big plate chicken" is an epic dish. On one massive plate, you've got thick noodles, potatoes, onions, peppers, and diced chicken covered in a delicious, spicy gravy. It's not just a clever name – it really is a huge plate of chicken. Usually, you can order either a small or a large portion. Unless you have at least 5-6 people, it's best to go with the small.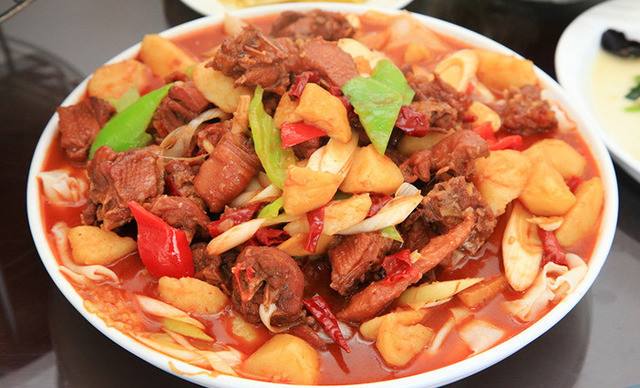 Lanzhou Roast Lamb
In the city of Lanzhou there is also a large Muslim population which also influences the dining habit of Lanzhou. Roast Lamb was already generally acknowledged as one of the eight most famous dishes in Gansu Province.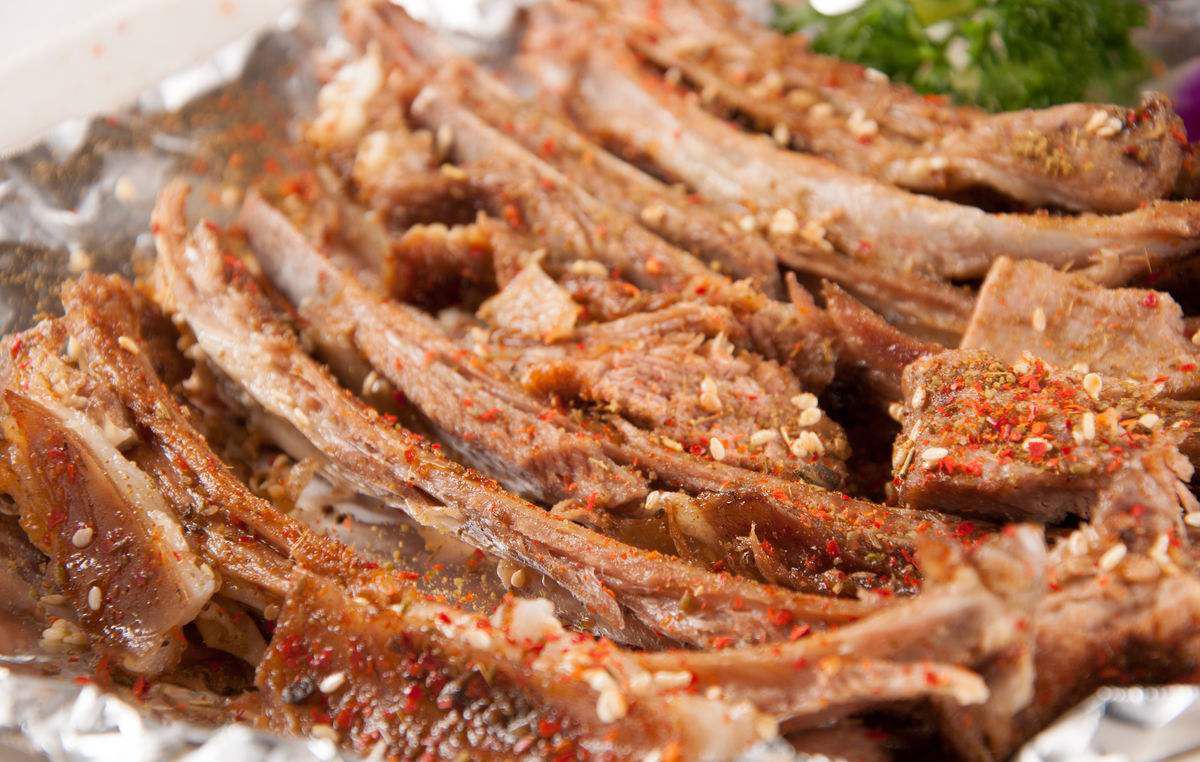 Tea
Drining Tea has long been a custom among the locals in Lanzhou, and sanpaotai is the most famous tea drink. Sanpaotai is made up of spring tea, longan, date, apricot, preserved fruits, wolfberry, walnut, sesame, dried raisins, etc. The tea is put into a unique tea bowl with a cover. The first time you taste it, you will enjoy the fragrance of the tea, the second time, the sweetness of the sugar, and on the third occasion you will notice the sweet taste of longan. It is not uncommon to linger over a bowl of tea for 5 to 6 hours.
Fruits
As for fresh fruits, Bailan melon is the most widely known. Travelers should try this mellow and sweet fruit at least once. Peaches, Yellow River honeydew melons, and dongguo pears are all popular as well.

Where to eat in Lanzhou
1) Mazilu. Chain of restaurants specialising in Lanzhou niurou lamian edit

2) UBC Coffee House (Shangdao Kafei Ting), Zhongshan Road (Opposite Shengli Binguan). For when you need a Western food break thats consistent wherever you are.

3) Zhengning Road. Near Xiguanshizi(located in the center of Lanzhou). You can find all of the Lanzhou traditional foods there.(Beef noodles except) The opening time is between 6:00PM to 1:30AM.