Global village near Xi'an a model for rural tourism
Post Date: 2020/06/04 11:45
Share to: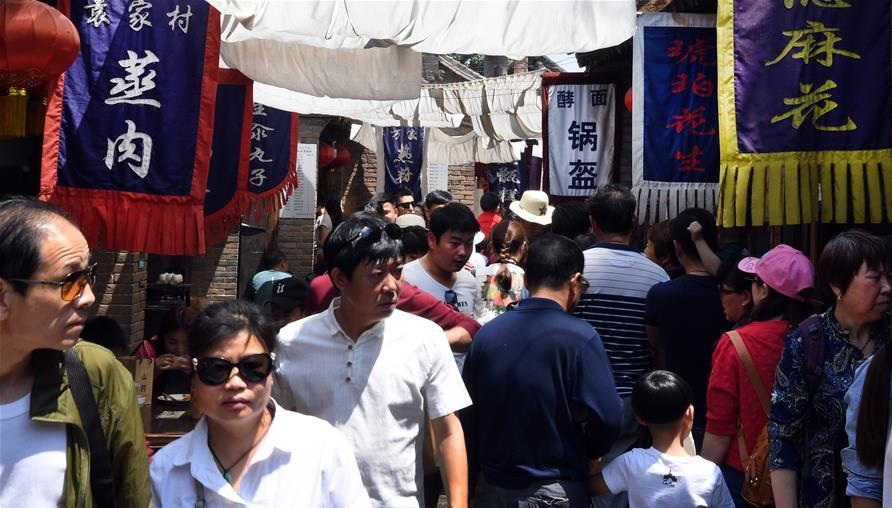 XI'AN-Walking through meandering walkways of Yuanjiacun village, it's really hard to miss the iconic Starbucks logo hanging on the wooden rafter tail of a U-shaped brick house modeled after century-old Qing-Dynasty dwellings.
Located at the foot of a mountain some 70 km from Xi'an, capital city of Shaanxi province, the Yuanjiacun village provides tourists with an authentic country landscape, lots of local snacks and shadow puppetry shows.
"Our store is very special," said Amy, the store manager. Since it opened at the end of last year, there have always been more customers who prefer coffee on-the-go. "Everyone likes to have a drink while strolling around."
The well-recognized US coffee chain targets white-collar workers and opens most of its stores in downtown areas of Chinese cities. Yet, Starbucks chose Yuanjiacun for a reason, which made many people curious about the small village.
The story began 20 years ago when Yuanjiacun decided to develop its rural tourism from scratch. Though the move was unexpected as the village had little tourist resources to offer, its name eventually turned from just characters on the map into a commercial brand featuring a fine blend of traditional architecture and lifestyle with trendy elements such as bars, handcraft studios and boutique hotels.
Yuanjiacun received over 6 million tourists and its tourism revenue exceeded 1 billion yuan ($141 million) last year, according to Wang Chuangzhan, director of the village committee. The annual average income of its 286 permanent villagers was more than 100,000 yuan.
"One of the secrets of Yuanjiacun's success is to continuously cultivate new business formats to meet the diversified needs of tourists," said Zhang Yan with the Shaanxi Academy of Social Sciences.
The village has not only welcomed foreign tourists with its rural folk culture, but also provided foreign companies with business opportunities, blending the cultures of East and West.
Starbucks was born out of that idea. The company was said to have been attracted by diversified businesses and consumers in the area, as well as its business philosophy of integrating coffee shops with local cultures.
Starbucks has opened stores in an ancient red brick house in Jinjiang, Fujian province, as well as in Yangshuo of Guangxi Zhuang autonomous region, which is known for its picturesque karst mountains and beautiful rivers.
Yuanjiacun has arranged evening classes for villagers to learn English and set up bilingual signs in scenic spots. The village also sent more than 300 villagers to Japan and Thailand to learn about tourism services and fine-grained management.
The village is now in talks with fast-food chains such as KFC and Pizza Hut to open stores, which will help make it-as wished by locals-more like a small global village.
---------------------------- Article From China Daily