DOMESTIC TRAVEL BOUNCES BACK TO HEALTH
Post Date: 2020/08/29 13:03
Share to:
Cross-provincial tourist numbers on the rise
Demand for domestic travel was rekindled last month when approval for cross-provincial group tours to most areas was granted by the Ministry of Culture and Tourism.
The go-ahead came nearly five months after domestic and overseas group tours were suspended due to the COVID-19 pandemic.
The outbreak, which emerged in China during the Spring Festival holiday-a peak time for domestic tourism-has had a huge impact on the travel industry and related livelihoods.
As a result, the resumption of interprovincial group tours during the busy summer vacation season has been welcomed by travel businesses and tourists.
Travel agencies, scenic areas, airlines, hotels, guesthouses and catering businesses are acting quickly to attract visitors, especially interprovincial travelers, with preferential prices and good-quality services.
The southwestern province of Yunnan, which boasts a wealth of tourism resources such as stunning scenery and ethnic group culture, is an ideal destination to avoid the summer heat.
Stores, restaurants, bars and minsu (Chinese-style bed-and-breakfast homestays) in the ancient town of Lijiang have all resumed business as usual.
In June, the popular vacation destination attracted more than 682,000 visitors. However, this was a year-on-year fall of about 40 percent.
In late January, the town was closed for a month due to the pandemic. From Feb 20 to June 30, the number of tourist visits was nearly 1.8 million, a decline of more than 60 percent compared with the same period last year.
Wan Hongli, an administrative worker with the town's management authorities, said there was a clear rise in the number of visitors in May, when the COVID-19 outbreak in China started to ease. The five-day Labor Day holiday, another peak season for domestic tourists, fell during that month.
"Many people travel with family members or friends. The summer vacation season is always a good opportunity for students to take a holiday with their parents," Wan said.
"Livestreaming, a major online marketing tool, is also playing an important role in aiding the tourism recovery."
Wan said livestreaming is a good way to spread the news that Lijiang is back in business and ready to welcome visitors again.
She added that the scenic area has recruited experienced tour guides to explain the town's history to travelers. Local ethnic groups are appearing on livestream broadcasts to show viewers a range of their activities.
"In an attempt to make themselves more competitive, local minsu owners have also been livestreaming to attract potential guests," she said.
Wan said it is essential for the owners to be creative and cater to travelers' tastes. As an example, she cited a minsu that provides a live action role-playing game.
Popular among young Chinese, players follow scripts in the game to act the roles of different characters. Costumes and props are also used.
Since mid-February, about 500 minsu owners in the town, accounting for about 30 percent of the total, have voluntarily provided Chinese medical workers with free accommodations. The offer lasts until the end of this year.
The local government recently launched the first biennial art exhibition in the town, with the aim of extending Lijiang's cultural influence and boosting tourism.
Late last month, more than 30 artists, led by Fan Di'an, head of the Central Academy of Fine Arts in Beijing, were invited to the town for a weeklong working visit.
The artists' 100 works in various styles, featuring natural beauty, local culture and folk customs, are on display in Lijiang free of charge until the end of this month.
Zhao Yihai, president of the minsu association in the ancient town of Shuanglang, Dali Bai autonomous prefecture, Yunnan, said an increasing number of cross-provincial tourists only began to arrive last month. In June, the town played host mainly to visitors from elsewhere in Yunnan.
Shuanglang has 427 minsu, each with 10 to 14 bedrooms, and the guests are independent travelers.
Zhao said room rates are similar to those charged last summer. Rooms with magnificent views of Erhai Lake, which cost about 1,000 yuan ($143) a night, have been fully booked. A standard minsu guestroom costs about 400 yuan a night.
Guests must provide their health QR code and have their temperature taken before checking in.
"The resumption of cross-provincial tours by travel agencies has made independent travelers confident about domestic tourism and made them more willing to venture out," Zhao said.
"As more tourists are coming to the town, businesses such as catering, along with outlets selling souvenirs, ethnic group costumes and local specialties, have resumed trading."
Shuanglang, situated at the east bank of Erhai Lake, is a must-visit destination for tourists to enjoy stunning sunsets against the backdrop of Cangshan Mountain, which rises above the shimmering waters.
"As an emerging destination in recent years, the town has become popular with young travelers, who prefer a leisure vacation to one solely involving sightseeing," Zhao said.
Guo Rui, who owns a small travel agency in Hulun Buir, Inner Mongolia autonomous region, said business is recovering well, as the region is another popular destination to avoid the summer heat.
Guo has been hosting livestream broadcasts on Mafengwo, the travel service and social networking platform, to introduce visitors to the region's attractions, such as its vast grasslands.
"Livestreaming has attracted followers to our business, and some have become clients. Most of them are on road trips or hire vehicles from us," he said.
Guo added that the agency helps organize activities for children of different ages, such as horse rising and archery.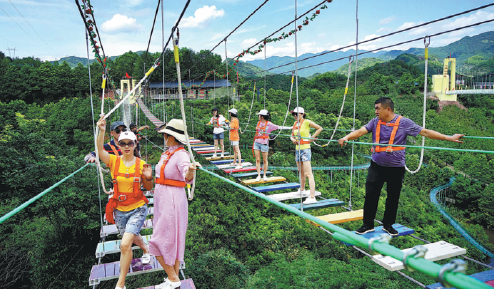 Prompt action
Fliggy, Alibaba's online travel service provider, is offering more than 100,000 interprovincial group tour products and packages, a year-on-year rise of 114 percent. Air tickets and accommodations are included.
Many domestic airlines have launched fly-on-demand packages, which entitle tourists to an unlimited number of flights until the end of this year. Fliggy is also offering a limited number of tickets for domestic flights at a discount, with some journeys costing as little as 66 yuan, excluding surcharges.
Data from the platform show that the most popular destinations for such tickets include Shanghai, Chongqing and Kunming, capital of Yunnan.
In the first 20 days of last month, bookings for caravan travel on Fliggy rose by 120 percent year-on-year.
Summer destinations such as Qinghai and Gansu provinces are ideal for caravan travel, which appeals to young visitors who like to stay overnight in scenic areas.
Cui Yupeng, deputy general manager of Fliggy's domestic business, said: "The resumption of cross-provincial travel is helping tourism industry operators gradually recoup losses resulting from reduced business. If the situation continues to improve, people will have an increased desire to travel during the National Day holiday in October."
The company's data show that many people are likely to spend more on travel, especially on safety, Cui said. Customized tours and travel by small groups have also become more popular.
Wu Mingyu, assistant to the general manager at major travel operator CTG Travel, said, "There will be increased demand for domestic travel in the second half of this year."
The company's drivers and tour guides, along with tourists, must undergo temperature checks and wear face masks, Wu said. Vehicles are disinfected each day.
He added that the company, which has been developing new products to meet visitors' demands, will launch themed activities in key domestic destinations such as Beijing and the provinces of Yunnan and Hubei.
Wu Ruoshan, special research fellow at the China Academy of Social Sciences' Tourism Research Center, said: "In recent years, the domestic travel market has seen increased demand for good-quality travel and new holiday resorts. Traditional scenic areas are enhancing activities such as night tours and cultural events, while travel agencies are adding more themed and customized tours.
"Amid the COVID-19 outbreak, such developments have become more obvious. After the pandemic, tourists will be more cautious when making travel plans."
Wu said that after months of slack business, some tourism companies are in financial trouble, or even close to bankruptcy. Without market support, "they're like kites with a broken string that keep falling. But now, the recovery is easing their cash flow problems," he said.
Booking in advance has become an unwritten rule for tourists visiting scenic areas, Wu said, adding that a supervisory system and related standards should be established.
------------------------Article From China Daily