Tour Itinerary
Place&Transport: Xian
Today's Activities: Terra-cotta Army, Small Wild Goose Pagoda, Chinese Calligraphy Lession, Muslim Quarter
Accommondation: N/A
Meal: N/A
Overview:A great travel experience is not all about sightseeing. Taking a private lesson to learn Chinese calligraphy and learning chinese culture and tasting a bit of real Chinese life with the visit of Terra-cotta Army will be a good choice to Xian. You may enjoy writing Chinese calligraphy and even know the profound history and culture of Chinese calligraphy.
In the morning, our local Xian tour guide will pick you up at your hotel in Xian or Xian train station, you will find a welcome signage "Xian Private Tour". And your Xian tour start.

Our Xian Pick Up Sign "Xian Private Tour"
Firsty, you will be transferred to Terra-cotta Army, it takes around 50 minutes for one way.
The Terracotta Army is a collection of terracotta sculptures depicting the armies of Qin Shi Huang, the first Emperor of China. The Terra-cotta Army is considered one of the greatest archaeological sites in the world, and one of the greatest discoveries of the 20th century. It is a form of funerary art buried with the emperor in 210–209 BCE and whose purpose was to protect the emperor in his afterlife.
The figures, dating from approximately the late third century BCE, were discovered in 1974 by local farmers in Lintong District, Xi'an, People's Republic of China, Shaanxi province. The figures vary in height according to their roles, with the tallest being the generals. The figures include warriors, chariots and horses. Estimates from 2007 were that the three pits containing the Terracotta Army held more than 8,000 soldiers, 130 chariots with 520 horses and 150 cavalry horses, the majority of which remained buried in the pits nearby Qin Shi Huang's mausoleum. Other terracotta non-military figures were found in other pits, including officials, acrobats, strongmen and musicians.
The terracotta figures are life-sized. They vary in height, uniform, and hairstyle in accordance with rank. Their faces appear to be different for each individual figure; scholars, however, have identified 10 basic face shapes. The figures are of these general types: armored warriors; unarmored infantrymen; cavalrymen who wear a pillbox hat; helmeted drivers of chariots with more armor protection; spear-carrying charioteers; kneeling archers who are armored; standing archers who are not; as well as generals and other lower-ranking officers.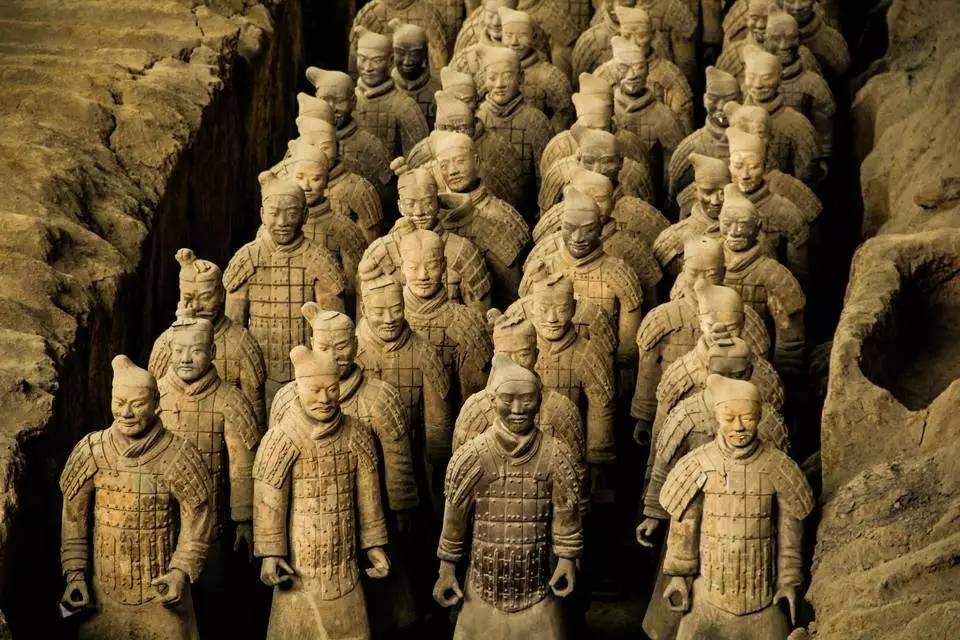 After finished the Terra-cotta Army, drive you back to Xian downtown. You'll head to Small Wild Goose Pagoda. The Small Wild Goose Pagoda is one of two signficant pagodas in Xi'an, the site of the old Han and Tang capital Chang'an. The other notable pagoda is the Giant Wild Goose Pagoda, originally built in 652 and restored in 704. Although Small Wild Goose Pagoda is not as big as Big Wild Goose Pagoda, its beautiful sceneries and quiet location make it outstanding in the ancient Xi'an city. Peaceful surroundings and some constructions elements which are as exquisite as Jiangnan (the south of the lower reaches of the Yangtze River) style buildings, are worth visiting in Small Wild Goose Pagoda.
Small Wild Goose Pagoda is one of Xian tours' major tourist sites, has recently undergone a lot of development and been made part of a much larger scenic area. Located in the southern suburbs of Xian, the scenic area consists of the Xian Museum, and the ancient Jianfusi Temple, which which houses the Small Wild Goose Pagoda. Now the area has been turned into a huge park complex with traditional gardens, a large manmade lake with a traditional Chinese marble bridge crossing it. Here the atmosphere is peaceful, the landscape is beautiful, and it has a unique lingering charm.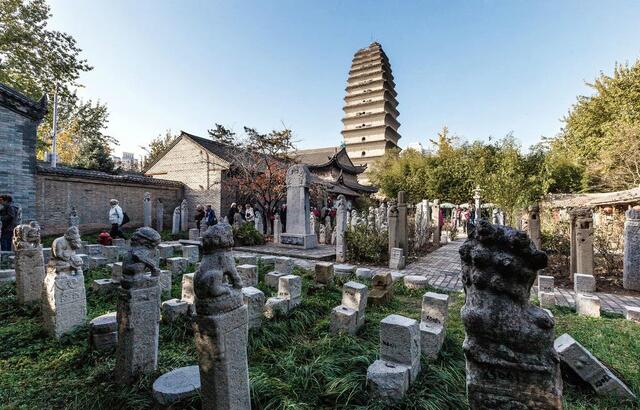 Then take a private Chinese Calligraphy lesson with your private teacher (around 1 hour). Calligraphy, literally "beautiful writing," has been appreciated as an art form in many different cultures throughout the world, but the stature of calligraphy in Chinese culture is unmatched. In China, from a very early period, calligraphy was considered not just a form of decorative art; rather, it was viewed as the supreme visual art form, was more valued than painting and sculpture, and ranked alongside poetry as a means of self-expression and cultivation. How one wrote, in fact, was as important as what one wrote. To understand how calligraphy came to occupy such a prominent position, it is necessary to consider a variety of factors, such as the materials used in calligraphy and the nature of the Chinese written script as well as the esteem in which writing and literacy are held in traditional China.
In trying to understand why calligraphy came to occupy such a prominent position in China, it is useful to consider the features that were prized when calligraphy began to emerge as an art form distinct from mere writing; that is to say, when specimens of handwriting began to be valued, collected, and treated as art. More than any other factor, it is the claim that calligraphy can serve as a medium of revelation and self-expression that best accounts for why it became so highly esteemed. A brief consideration of how calligraphic technique is mastered might shed some light on the question of why such expressive potential was seen as intrinsic to calligraphy in the first place.
As discussed elsewhere, the Chinese written script is made up of several thousand individual graphs. Each consists of an invariable group of strokes executed in a set order. One of the truly unique features of calligraphy that results from these apparently restrictive guidelines is that the viewer is able to mentally retrace, stroke by stroke, the exact steps by which the work was made. The viewer also is able to observe extremely subtle nuances of execution-where a stroke was made swiftly or slowly, whether the brush was put to the paper with great delicacy or force, and so on.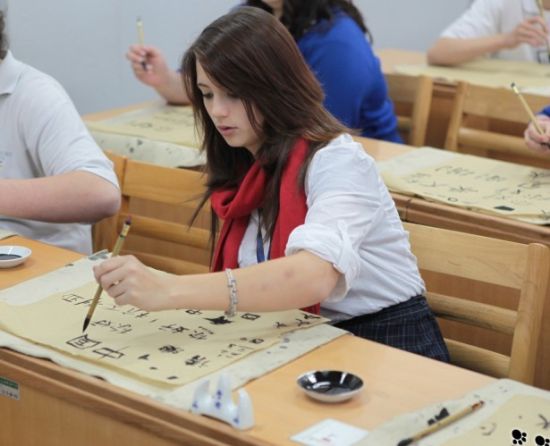 Next to Muslim Quarter. The Muslim Quarter in Xi'an is one of the most well-known parts of the city. Visitors to the city will consider it a whirlwind lesson in bartering and delicious-looking street foods, while those who live here most likely see it as a touristy area worth staying clear of during national holidays. But there's more to the Muslim Quarter than the wafting scents of cooking and frantic efforts to offload souvenirs; tourists and residents alike would do well to look beyond the touristy fa?ade and dive into the real heart of Huimin Jie (???). As for food suggestions along the main street, try and grab some samples of the ginger candy and pounded snacks along the sides. If you're lucky, the workers may let you have a go at hitting the batter. If you are a fan of fruit leather, you will find a delicious variety among the stands. 15 RMB will buy you a large roll.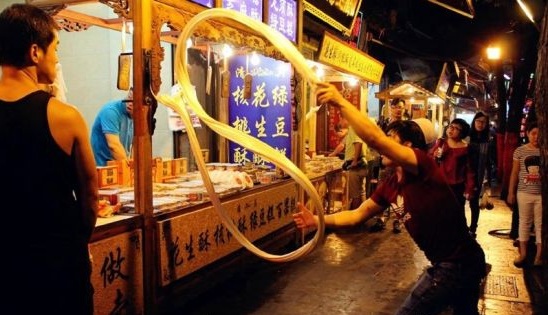 After the visit of Muslim Quarter, our tour guide will take you back to Xian train station or your hotel in Xian donwtown.
Price Per Person in US Dollars