Summary
Chinese Lantern Festival
The Lantern Festival (or Yuan Xiao Festival in Chinese) is a traditional Chinese festival with great significance, which is on the 15th of the first lunar month, marking the end of New Year celebrations. During the Lantern Festival, children go out at night to temples carrying paper lanterns and solve riddles on the lanterns. Many Chinese holidays involve lanterns. But the Lantern Festival represents the epitome of this customs.
The origins of Chinese lanterns reach back to the Stone Age. The coming of the Bronze Age saw the development of various kinds of worked metal lanterns, of which palace lanterns were the most ornate. Later, decorative lanterns came to be used in festivals. Various lantern festivals became quite popular during the Sui Dynasty (581- 618), and during the Southern Song Dynasty (1127 -1279), the custom of writing riddles on lanterns emerged. During this time, a festival in Qinhuaihe in Nanjing featured over 10,000 lanterns. During the Qing Dynasty (1644-1911), magnificent exhibitions of lanterns were held in the capital city. Lantern contests were also held, with the dragon lantern being the most famous competitor.
Tour Itinerary
Place&Transport: Xi'an
Today's Activities: Terracotta Army, Big Wild Goose Pagoda, Muslim Quarter, Lantern Festival Show on Xi'an Ancient City Wall
Accommondation: N/A
Meal: N/A
In the morning, our tour guide will pick you up at your Xi'an downtown hotel or Xi'an train station, you will find a welcome sign "Xi'an Private Tour". And you Xi'an tour start as below: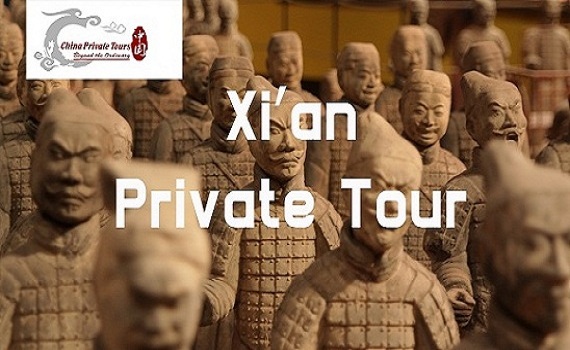 Our Xi'an Pick Up Sgin "Xi'an Private Tour"
Firstly, you will be transferred to Terracotta Warriors (around 40 minutes for one way). Terracotta Warriors and Horses Museum is known as "the eighth Wonders of the world", the museum shows a surprisingly high level in sculpture which is listed as the most significant discovery of the 20th century. Up to now, there has discovered a total of 179 accompanying burial pits of different connotations and various shapes in Qinshihuang's Mausoleum area. The discovery of these pits has provided all important significance in the research of the burial system of the Qinshihuang's Mausoleum, the characteristics structures and characteristics of the burial pits. However. What makes people feel amazing is that of all the burial pits, none has been found survived from being burnt down.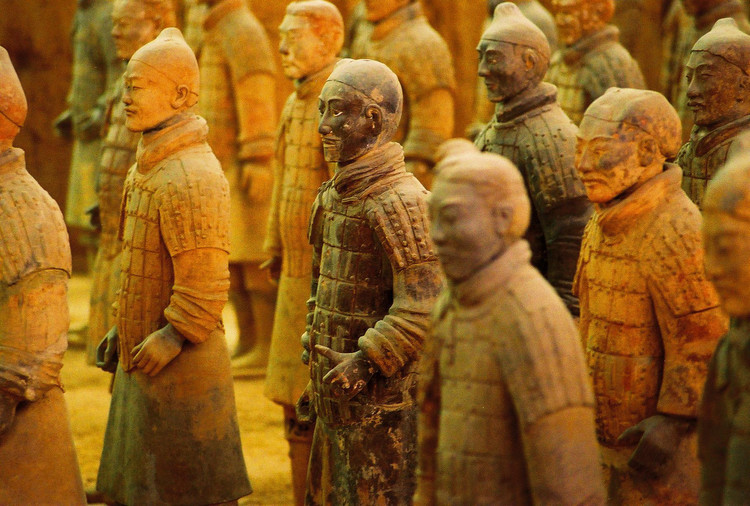 Enjoy your lunch at a local Chinese restaurant that serves Xi'an authentic food.
After lunch, transfer you back to Xi'an downtown, continue your tour to Big Wild Goose Pagoda. Big Wild Goose Pagoda is a Buddhist pagoda located in southern Xi'an, Shaanxi province, China and became the symbol of the old-line Xi'an. It was built in 652 during the Tang dynasty and originally had five stories. The structure was rebuilt in 704 during the reign of Empress Wu Zetian, and its exterior brick facade was renovated during the Ming dynasty. The Big Wild Goose Pagoda attracts numerous visitors for its fame in the Buddhist religion and its simple but appealing style of construction. It is rated as a National Key Cultural Relic Preserve. One of the pagoda's many functions was to hold sutras and figurines of the Buddha that were brought to China from India by the Buddhist translator and traveler Xuanzang.
Later, you will go to Muslim Qaurter. Muslim Quarter is the most famous food street in Xian. It consists of Islamic food area, ethnic group shopping center, Great mosque and living area of Hui people. It is a place distinct for its delicious food and Islamic culture, with a history of more than 1000 years. The streets are paved by gray flagstone and the buildings are of Ming style. The food in the street is of north and west flavor, in which crude pancake in mutton soup, cold rice noodles, Chinese hamburger, Qishan noodles are famous Shaanxi food.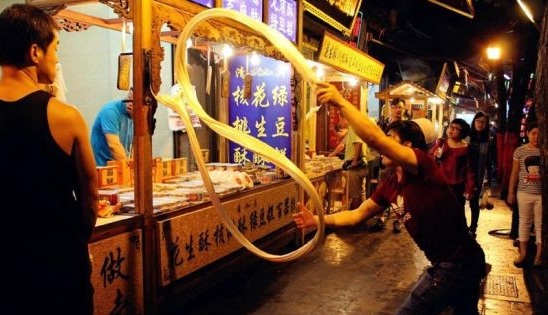 You'll have chance to eat small dumpling balls. Just as the name implies, an important part of the Lantern Festival, or Yuan Xiao Festival, is to eat small dumpling balls made of glutinous rice flour. We call these balls Yuan Xiao, or Tang Yuan. Obviously, they get the name from the festival itself. Made of sticky rice flour filled with sweet or salty stuffing and round in shape, the dumpling symbolizes family unity, completeness and happiness. Sweet fillings are made of sugar, walnuts, sesame, osmanthus flowers, rose petals, sweetened tangerine peel, bean paste or jujube paste. A single ingredient or any combination can be used as the filling. The salty variety is filled with minced meat, vegetables or a mixture of both.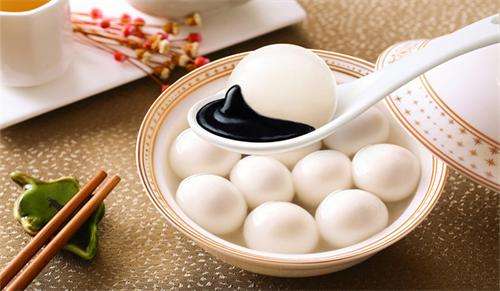 In the evening, our tour guide will take you to Xi'an Ancient City Wall, where the Lantern Show will be held. The Lantern Show has been held on the City Wall since 1985 that provides a great opportunity for you to not only appreciate lanterns of different sizes and shapes, but also to experience magnificent evening views of the wall itself. Climb onto the City Wall and discover its profound history. Walk along the ancient wall to see a variety of mesmerizing lanterns and magnificent evening view.
After the tour ends, drive you back to your hotel or Xi'an train station.
Price Per Person in US Dollars