Weiyang Palace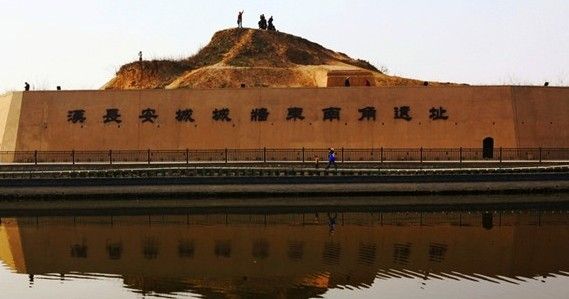 Weiyang Palace
Brief Introduction of Weiyang Palace
Weiyang Palace covers and are of 4.8 square kms, around 1/7 of the size of Whole Chang'an City. Weiyang Palace is the imperial palace during the Western Han Dynasty. Built in 200 BC, Weiyang Palace was the place where 12 emperors of Western Han governed the court. When viewed from above, the palace is roughly square, about 2250 meters long from east to west and about 2150 meters from south to north.
Weiyang palace consisted of more than 40 halls. Major architectures within the palace include: the Front Hall. Xuanshi Hall. Wenshi Hall. Qingliang Hall. Qilig Hall. Jinhua Hall. Chengming Hall. Gaomen Hall. Baihu Hall. Yutang Hall. Xuande Hall. Jiaofang Hall. Shaoyang Hall. Bailiang Platform. Tianlu Pavilion and Shiju Pavilion.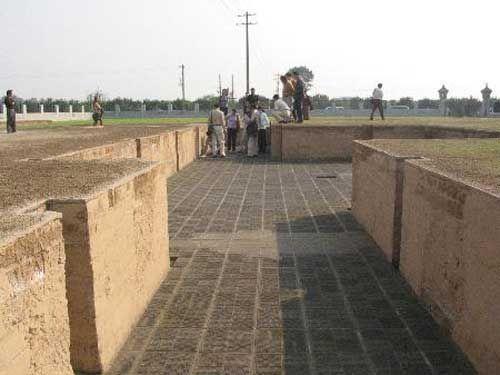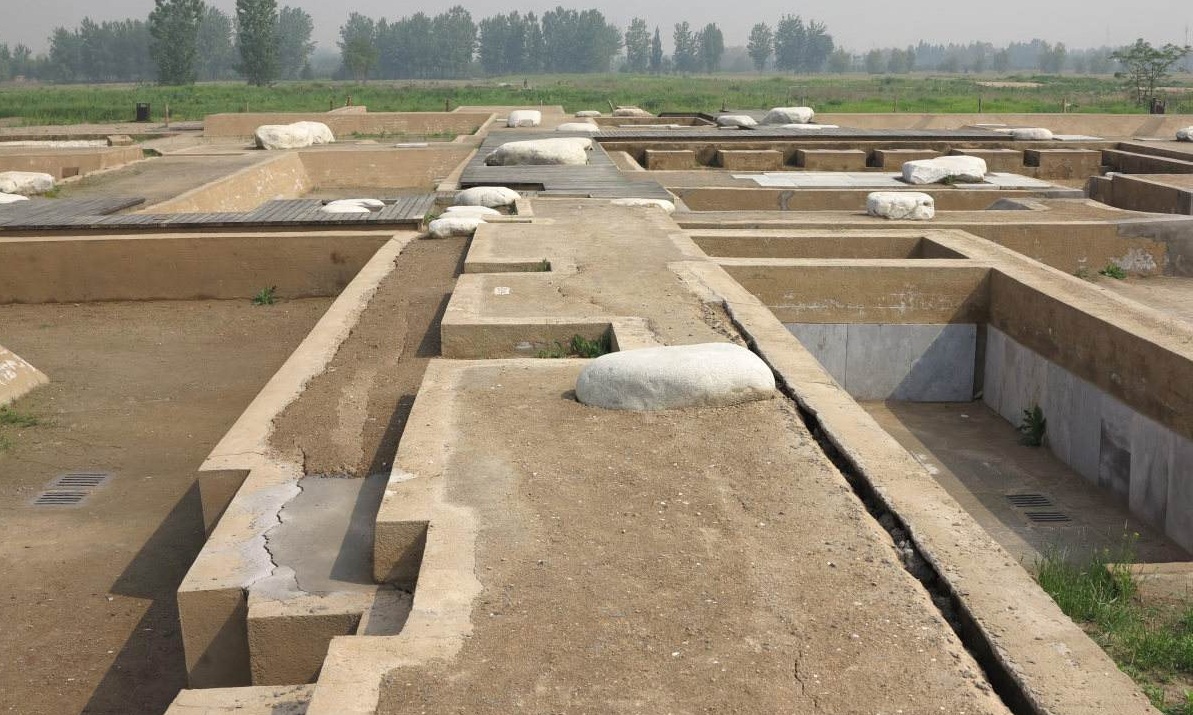 The Front Hall of Weiyang Palace was built besides the southern main gate and its huge structure base of rammed earth still lies there today. The existing base of the Front Hall is about 150 meters from east to west and over 350 meters from north to south Now. It is situated at the center of the whole palace. with its base altar spanning about 350 meters from north to south. 200 meters from east to west and 15 meters high at the north tiptop. Historical records show that Weiyang Palace had a Sima Gate (gate for defense) at each of the four sides. a watchtower at each of the northern and eastern gates -- the East Watchtower was for seigneurs to meet the emperor and the North Watchtower for scholars and ordinary people to submit written statements.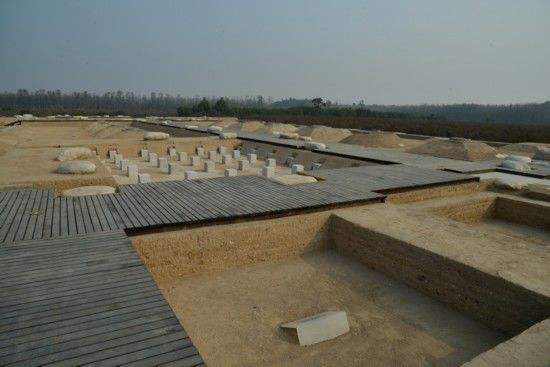 The highest point in the north reaches more than 10 meters. At the point about 200 meters north of the site of the Front Hall was the Jiaofang Hall discovered in 1987. where empresses of the Han Dynasty lived. On the north of the Weiyang Palace are the sites of the Tian Pavilion and the Shiqu Pavilion. which belonged to the Imperial Library of the Western Han Dynasty (206BC-8AD). Eave tiles with characters of "Chang Le Wei Yang"and "Chang Sheng Wu Ji". Han air bricks and aqueducts could be found from time to time.
Nowadays no palace but an archaeological site can be found in the Weiyang Palace site. However, the site is still there as a silent witness of the Silk Road.
Transportation
Bus Routes
1. Take bus No. 234 or 331, get off at Zhouhewan Station
2. Take bus No. 223, 713, or 912, get off at Gaobaozi Station
3. Take bus No. 226, get off at Yanquemen Village
Travel Guide
Admission fee: Free
Opening Hours: Whole Day