Tang Dynasty Dance Show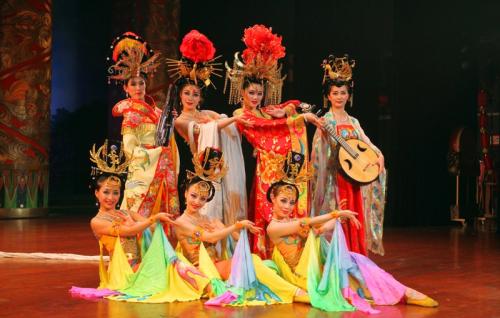 Tang-Dynasty Palace Music and Dances
Brief Introduction
The Tang Dynasty Show, also known as "Music & Dance Dinner Show in Xian" is the pride of the city. Hosted at the "Tang Dynasty Palace", which is a leading entertainment theatre & dinner restaurant in China. This legendary venue offers visitors a unique opportunity to indulge themselves in exotic Chinese entertainment and Cantonese delicasies.
Founded in 1988, the theater has been a stage for many famous performances of cultural sginificance. This performance is no exception either, with roots to dance, and music that was used in ritual prayer for a good harvest and better life. Reserve tickets to make sure you don't miss this popular spectacle for your magical visit to Xi'an!
This popular show is a must on the list of things to do in Xian. Making The Tang Dynasty Palace one of the major tourist attractions in the city center.
Highlights of The Show
The show takes you to a magical journey through the ancient and prosperous Tang Dynasty in Chang'an. Currently known as Xi'an at the heart of the Shaanxi province. The story is told through impressive acting, dance and singing accompanied by a live traditional orchestra. This performance is a visual feast that represents beauty extending as far as the Silk Road itself.
The large auditorium includes a modern performance stage, as well as a premier Cantonese restaurant. The performance is made to satisfy all of the senses, incluging taste, sight and sound to which the theatre owns it's tremendous success as a major tourist attraction in Xian. When you are looking for things to do in Xian, the Tang Dynasty Show cannot be missed!
Tang Dynasty Palace was founded in 1988, the year of it's constructed and remains the most culturally significant Chinese performing arts stage in Xi'an.
Information
Ticket:
1. Dinner + Show: CNY 500
It is kicked off with a royal banquet, emperor style as master chefs prepare the famed Tang Dynasty-style fusion cuisine in the dining room in the theater. After dinner, move to another place to enjoy the fantastic Tang Dynasty Music & Dance Show.
2: Dumpling Banquet + Show: CNY 320
Enjoy a traditional Chinese dumpling banquet, after dinner, have a short break, stage is set for a magical night!
Note:
1. Child Policy: Half price as adult for dinner, same price as adult for show.
2. Please make your booking as soon as possible to guarantee seats!
3. Dumpling Banquet Dinner Time: 18:00--19:30
4. Show starts Time: 19:45--21:00
Travel Guide
Theater Palace: Tang Dynasty Palace (Chinese: ???)
Address: No.75, North Chang'an Road, Xi'an ( Chinese: ????75?)
Subway: Nanshaomen Station, (Line2, Exit D2) ????
Tel: (+86) 1555-2589-030