Small Wild Goose Pagoda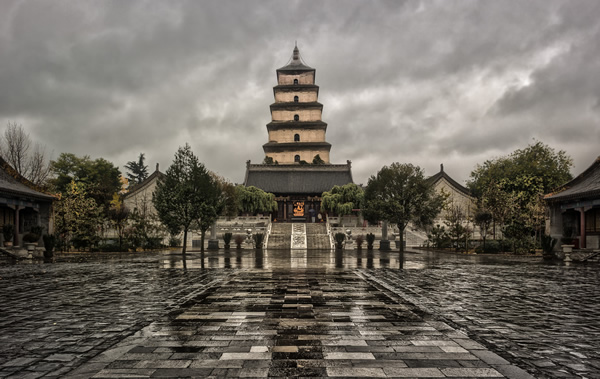 Small Wild Goose Pagoda Xi'an (Chinese: ???)
Brief Introduction
Located inside the Jianfu Temple in southern Xi'an city, Small Wild Goose Pagoda is one of the two famous and important Buddhist pagodas erected in the Tang Dynasty between 707AD -709AD. The other one is Big Wild Goose Pagoda, which is bigger than Small Wild Goose Pagoda, and the Big Wild Goose Pagoda was built in 652, earlier than Small Wild Goose Pagoda, hence the name.
History of Small Wild Goose Pagoda
Small Wild Goose Pagoda originally built between 704AD-707AD in Tang dynasty, it was named after its larger predecessor, Big Wild Goose Pagoda since it has short history and smaller. It was built for keep the Buddhist scripts which were carried by great monk Yi jing from India, Yijing is a famous pilgrim, a great Buddhism translator at that time and lived in Jianfu Temple. Jianfu temple was one of the important venues for the sutra translation in the Tang Dynasty. The monk Yijing started off from India from Chang'an (now in Xi'an) in search of Buddhist principles. He went to around 30 countries in 25 years and brought back 400 volumes of Buddhist scriptures. In 695AD, he returned to Luoyang and focus on translating the sutra in Jianfu temple in 706AD. He wrote the book Biography of Eminent Monks of Tang Dynasty in Search of Buddhist Truth in India. The 15-strorey pagoda was built in Jianfu temple.
In late Tang dynasty, Jianfu temple was destroyed but the pogada was preserved well. The original pagoda stood 45 meters in height with 15 storeys. Without hundreds of year renovations and reconstructions, the Small Wild Goode Pagoda was kept its original structure till now even suffered destructive earthquakes for several times.
During the 1970s, this place was possessed by the army, till 1989 it was totally free of the military controlling. Today, the pagoda stands at a height of 43.3 meters (142 feet) with 13 storeys, which is open to the public scenery in Xi'an.
What to see in Small Wild Goose Pagoda
Structure of Small Wild Goose Pagoda
Small Wild Goose Pagoda is a dense-eave pagoda with blue brick masonry of 15 storeys. It originally was 46 meters in height, but now is 43.3 meters. The pagoda has a square pedestal and a huge first storey, each side measuring 11.38 meters. Beneath the pogada there is an underground palace. The ground storey has two doors facing south and north respectively and other storeys have exquisite windows. The eaves of the pagoda are formed by designs in the shape of chevrons and fifteen tiers of overlapping bricks, each tier wider than the one below, thus making the eaves curve inward, a characteristic of dense-eave pagodas in the Tang Dynasty. Doors on the north and the south sides of the first storey have frames built of black stone and is covered with dedicated patterns, which have high artistic value and reflect the art style of the early Tang Dynasty.
Inside the pagoda is empty cylindrical structure and there are wooden ladders to the top. Due to its beautiful structures, Small Wild Goose Pagoda has influenced brick and stone dense-eave towers in the Tang and Song Dynasties. Besides, you can get to the top and appreciate the Xi'an city here.
Bell in Small Wild Goose Pagoda
The bell is in Jianfu temple, which is made of iron, has a history of over 800 years. The bell originally built in 1192 during the Tang synasty. It was installed in the Jianfu temple and it would ring every morning at that time. And the voice could be spread widely and cause the place in a mild atmosphere. Today, the bell in the Jianfu temple and the Small Wild Goose Pagoda has been known as one of the "Top Eight Scenes of Xi'an" since ancient times.
Transportation
Bus Routes:
1.Take Bus No. 18, 21, 29, 32, 40, 46, 203, 204, 218, 224, 407, 410, 508, 521, 700, 707, 713, 720, Tourist Line 7 or Line 8 and get off at Small Wild Goose Pagoda stop, then walk to north gate
2. Take bus No. 18, 203, 204, 218, 258, 407, 410, 713 or Tourist Line 7 and get off at the Xiajiazhuang Station. Walk north for around 4 minutes and get in through West Gate.
Metro Routes:
Line 2, get off at Nanshaomen Station, and leave from Exit A1 or A2. Walk west about 6 minutes and get in through the North Gate.
Travel Guide
Address: 72 West Friendship Road, Xi'an
Admission Fee: Free (Climb the pagoda: CNY30)
March 15-October 31: 09:00-18:00 (Ticket selling stops at 17:00)
November 1-March 14: 09:00-17:30 (Ticket selling stops at 16:30)
Opening Time: 9:00-16:00 (close on Tuesday)
Tel: 029-87811081