Qianling Museum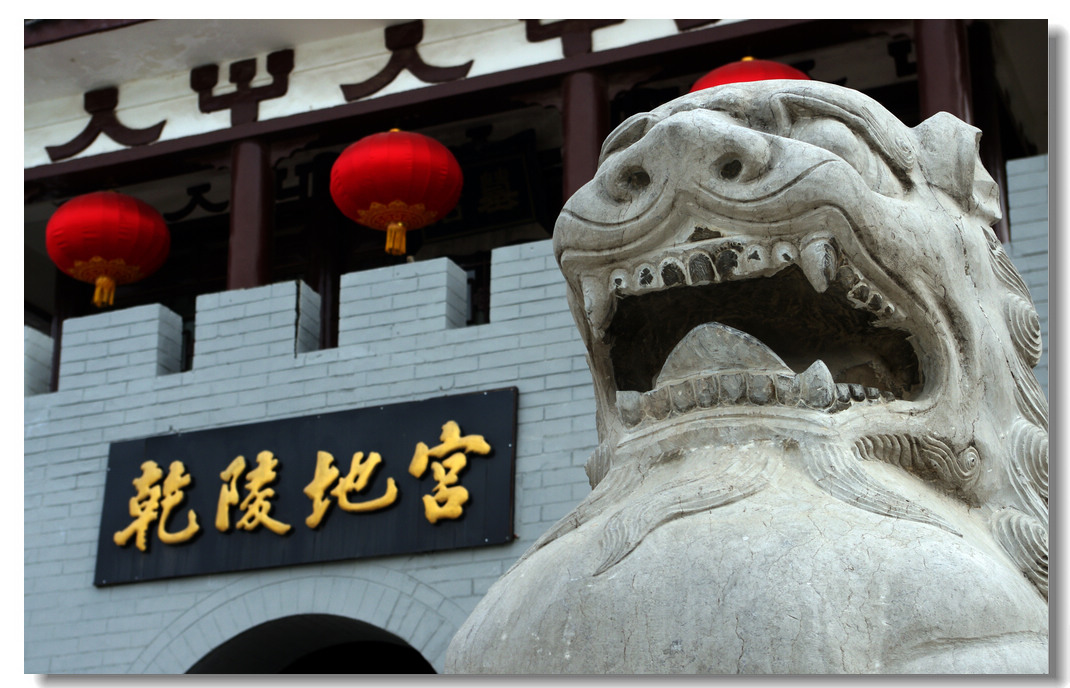 Qianling Museum Xi'an (Chinese: ???????)
Brief Introduction
The Qianling Museum is a mausoleums museum in China. It was founded in 1978, the museum is situated around the site of Qian Mausoleum. The Qian Mausoleum is where the third Tang-dynasty emperor and his empress were buried together. The third emperor was Li Zhi and his empress was Empress Wu Zetian. This is the most representative among the eighteen Tang-dynasty tombs and the best preserved. It is located on top of Liangshan. The scope of the tomb is very large with the precincts of the tomb and gardens totalling an area of 2,400,000 square meters. According to historical documents, a number of accompanying tombs surrounded the Qianling imperial-tomb precinct. These were mostly robbed in antiquity but certain superlative works of art remain that can be seen at this museum. It is well worth a visit.
History
Tang Emperor Li Zhi was the ninth son of Emperor Tai Zong and became the emperor in 649 when his father died. Emperor Taizong was a strong ruler, but Li Zhi was a weak ruler. His uncle Zhangsun Wuji helped him a lot, so he was made crown prince and ascended the throne upon Tai Zong's death. Though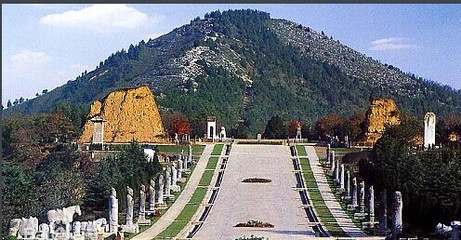 he was muddle-headed and weak-minded and accomplished little, the flourishing and stable state of early Tang was maintained during the first years of his reign, thanks to such veteran officials as Zhangsun Wuji and Chu Suiliang who actually usurped state power. However, once Wu Zetain moved into the palace, things began to change in the Tang regime power structure. Wu Zetian was from Wenshui, Shanxi Province. Her father was a successful wood merchant. She was one of the concubines of Taizong and then she cut down her hair and became a buddhist nun in 649. In 654, she was taken out of the monastery and brought into the palace by Emperor Gao Zong and as his chief concubine. The next year the Emperor deposed Empress Wang and named Wu Zetian his empress, allowing her to participate in state affairs. He dismissed and ostracized Chu Shuiliang and in 659 forced Zhangsun Wuji to commit suicide. From then on, Li Zhi remained in poor health, "faint, heavy-headed and sightless" as the chronicles described him, and Wu Zetain attended to most court affairs. Qianling Mausoleum was completed in 684. After Wuzetian passed away, she was interred in a joint burial with Emperor.The five attendant tombs mentioned above were opened and excavated in the 1960s and early 1970s. In March 1995, there was an organized petition to the Chinese government about efforts to finally excavate Emperor Gaozong and Wu Zetian's tomb.
What to see in Qianling Museum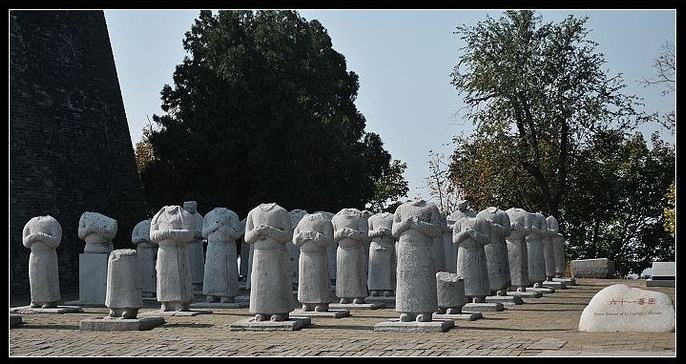 1. Stone Human Statues
On the right side of the path there are 61 stone human statues erected here in order to show us a powerful and prosperous Tang Dynasty and have a good relationship with others. Wu Zetian asked the chief-rains and foreign guests to caome here to commemorate the minority chieftains and foreign special envoys who attended the funeral. Wearing tight-sleeved clothes, broad belts and leather shoes, these figures cup their hands in front in an attitude of prayer. But you will notice that most of the statues with defaced head, just only two statues are completed with the western row. And you can find the nationalities and the name of them in the back.
2. Paintings
Since 1949, lots of tombs were unearthed in Qianling mausoleum, such as the Tomb of Yong Tai, who was the Princess. They are in the same surface appearence and structure, was surrounded by a wall, ornamental pillars on the south side, stone figures and stone sheep in precise order. The tombs themselves were composed of a passage way, an archway, a shaft, a corridor and ante-and rear-chambers. On two sides of the shaft were a series of niches containing a variety of three-color figurines, pottery and porcelain articles.
Frescoes adorned the walls and tops of the passage, the archway, the corridor and chambers. We can see some "Painting of Maids," which reflecting the parasitic imperial life; The archiectural designs part reflecting Tang Dynasty's architecture; What's more we can see the cultural exchanges and frendily relationships between China and the wolrd from these paintings. The themes on here are colorful, well composed and skillfully executed,. There is no doubt that Tang paintings stands in a high level and made a great influence in Chinese painting.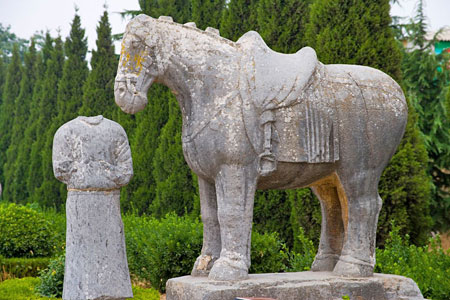 3.Uncharactered Tablet & Seven-section Stele
We can see two stone tablet on this area.On the east side,it's a tablet without character, it named Uncharactered Table,was erected blank as a term of Wu Zetian's will. This blank tablet was 6.3 meters in high. And also some people changed it into a charactered one, according to records they were 13 inscriptions in total.But the most famous one is Nuzhen script with a Chinese translation beside it was well preserved,but now we can't see this script,it was disspeared.This rare script was a precious aid for the study of Nüzhen scripts and the Chinese history and culture.The one on the west was Telling the Emperor's Deeds,and it also called Seven-Tiered Tablet because it was composed of seven tiers.It was written by Wu Zetian and carved in the handwriting of Emperor Zhong Zong, there are more than 8,000 characters with the golden powder. on this inscription in order to praises the achievements of Emperor Gao Zong.
4. Winged horse & Stone lion
The winged horses, wings decorated with slender, delicate lines, are in a flying gallop. Because supreme rulers considered themselves so upright their reign would be prosperous, they also wanted pairs of winged horses and rosefinches, representatives of propitious birds and beasts, to guard a prosperous underground life. The rosefinches, in high relief, were beautifully shaped and sturdily carved. It is said that because rosefinches were a gift from Afghanistan for the funeral and could serve as guards, a pair of them were erected in front of the tomb. We also can a pair of stone lions in front of the wall, They are symbols of dignified, autocratic Tang rulers.
Information
Location: Liangshan Mountain,North of Qian County.
Opening Hours: 08:00-18:00
Admisssion: 122RMB( peak seson); 82RMB( low season).
How to Get There
(1) Take bus from Xian west bus station to Qian County, and then take taxi to the north entrence of Qianling;
(2) Take taxi from Xianyang Airport to Xianyang north bus station and then take bus to Qian County, around an hour.