Maijishan Grottoes
Breif Introduction of Maijishan Grottoes
Maijishan Grottoes is the main highlight of Maijishan Scenic Area. It is a national 5A-level tourist area. It is named because the shape of the mountain resembles a farmhouse. Maijishan Grottoes are chiseled on vertical cliff faces 20-80 meters high and 200 meters wide. There are 194 caves, including Dongya 54 caves and Xiya 140 caves. There are more than 7,800 clay sculptures, stone clay sculptures, and stone sculptures. The largest statue of the East Cliff Buddha is 15.8 meters high and the mural is more than 1,000 square meters.

Maijishan Grottoes is one of the four largest grottoes in China and is known as the "Oriental Sculpture Museum". The other three caves are: Longmen Grottoes, Yungang Grottoes and Dunhuang Mogao Grottoes.
On June 22, 2014, at the 38th UNESCO World Heritage Committee meeting in Doha, Qatar, the Maijishan Grottoes were jointly declared as the "Silk Road: Changan-Tianshan" by China, Kazakhstan and Kyrgyzstan. A site in the Corridor Network was successfully listed on the World Heritage List.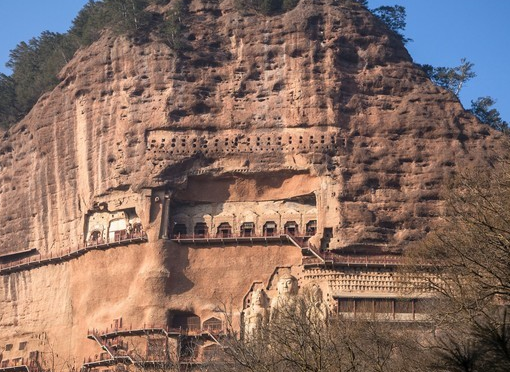 History of Maijishan Grottoes
The history of Maijishan Grottoes can date back to 2000 years ago. They were built in the post-Qin Dynasty (384-417). Daxing was developed during the period of Emperor Yuan and Emperor Taiwu of the Northern Wei Dynasty. Emperor Xiaowen reigned in the first year (477). After the death of Emperor Yifu Family (Queen Yifu) of the Emperor Yuanbao Torch of the Western Wei Dynasty, Mai Jiya was dug here for burial. During the Baoding, Tianhe years of the Northern Zhou Dynasty (561-572), Qinzhou Governor Li Yunxin built the Seven Buddha Pavilion for his dead father. In the first year (601) of Emperor Sui Wen Emperor Renshou built a tower of "Buried God Niseli" in Maiji Mountain. After the continuous excavation and expansion of the Tang, Five Dynasties, Song, Yuan, Ming and Qing dynasties, he became a famous grotto group in China one. Around the 22nd year of Tang Kaiyuan (734 years), because of a strong earthquake, the central part of the cliff face of Maijishan Grottoes collapsed, and the cave group was divided into two parts, east and west cliffs.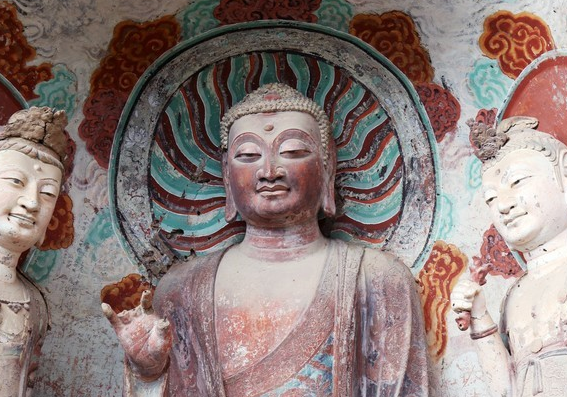 Travel Guide
Recommended Visiting Time: Half day
Opening Hours: 8:30am - 17:30pm (peak season); 9:00am - 17:00pm (low season)
Entrance Fee: CNY80
Location: Maijishan Scenic Area, Maiji District, Tianshui City, Gansu Province, China