Duling Mausoleum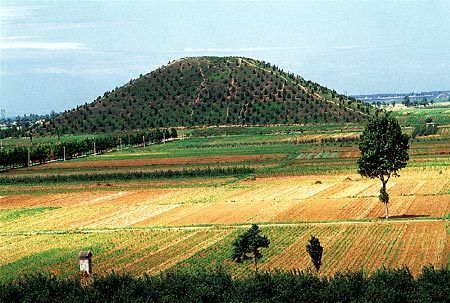 Duling Mausoleum, Xian Attraction
Introdution
Duling Mausoleum is located in the south of the three trillion village of Xi'an. The mausoleum is about 4 square kilometers far from Xian city. It is the mausoleum of Xuan emperor Liu Xun in the late Western Han Dynasty. When he was emperor, he was able to swim in the original place. After he was emperor, he chose the cemetery and built the cemetery. Since the Han Dynasty, the Duling has been a famous tourist spot in Chang'an (today's Xi'an City), where many men of letters gathered and left a number of famous poems. In recent years, archaeologists have excavated many antiques in the relics located near the tombs.
Structure
The Duling Mausoleum is surrounded by adobe walls, covers a land area of 120 mu. The gate of the Duling Mausoleum is actually a hall. Main halls and auxiliary halls are altogether over 30 meters long and 20 meters wide. With a six-meter-wide passageway, the tomb is located at the center of the square mausoleum, which spans 120 meters at each side and is 30 meters high. There are also relics of the resting hall and side hall at the mausoleum. The sewers, located at all four sides, can still be clearly recognized.
About Emperor Xuan of Han
Emperor Xuan of Han (91 BC – 10 January 49 BC), was an emperor of the Chinese Han dynasty from 74 to 49 BC. His life story was a riches-to-rags-to-riches story.
Emperor Xuan was the great grandson of Emperor Wu. His grandfather Liu Ju, was the son of Emperor Wu and Empress Wei and the crown prince of the Han Empire, who in 91 BC was framed for witchcraft practice against Emperor Wu and committed suicide after being forced into a failed uprising. His father Liu Jin (??) also died in that turmoil. Emperor Xuan was only an infant at the time and hence he was spared (but only barely) but was banished to live as a commoner.
After Emperor He's short reign of only 27 days in 74 BC, Xuan was declared emperor by Huo Guang (the half-brother of Huo Qubing). Emperor Xuan has been considered a hardworking and brilliant emperor. Because Xuan grew up as a commoner, he thoroughly understood the suffering of his people. He lowered taxes, liberalized the government and employed capable ministers to the government. He was said by Liu Xiang to have been fond of reading Shen Buhai, using Xing-Ming to control his subordinates and devoting much time to legal cases.Emperor Xuan was open to suggestions, was a good judge of character, and consolidated his power by eliminating corrupt officials, including the Huo family, which have exerted considerable power since the death of Emperor Wu, after Huo Guang's death. However, his execution of the entire Huo clan later drew heavy criticism from historians for its ungratefulness to Huo Guang. (e.g., Sima Guang in his Zizhi Tongjian.)
Under Emperor Xuan, the Han dynasty prospered economically and militarily. His rule lasted 25 years and he died in 49 BC. He was succeeded by his son Emperor Yuan.
Information
Admission Fee: CNY 35
Opening Hours: 6:00-22:00
Best seasons: Spring and Autumn