Bell & Drum Tower Square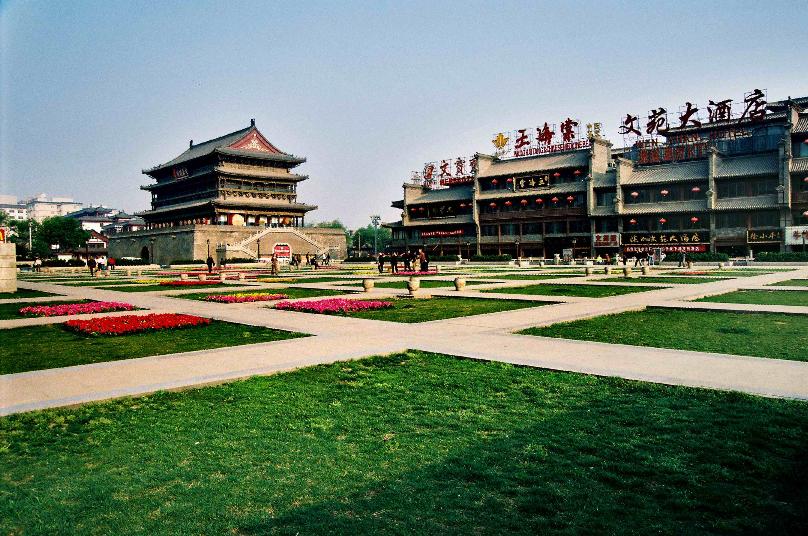 Drum & Bell Tower Square
Overview
Located at the southern end of Beiyuanmen along the Western Avenue of the city of Xi'an, the Drum Tower stands opposite the Bell Tower over a distance in the east. Initially built in 1380, the 13th year under the reign of Emperor Hongwu of the Ming Dynasty it was four years earlier than the Bell Tower and has now a history of over 620 years.
Standing in the city center the Bell Tower is right at the intersection of the four main avenues running front north to south and east to west across the city. With its pedestal rising 8.6 meters up the tower totals 36 meters in height. And with each side measuring 35.5 meters long it covers an area of around 1,377.4 square meters.

History & Background
Initially built in the Ming Dynasty the tower was first located at the cross-section of nowadays Guangji Street, opposite the Drum Tower. In 1582, the 10th year under the reign of Emperor Wanli, it was removed as a whole to the present site in the administration of Gong Xian, the imperial inspector of the time.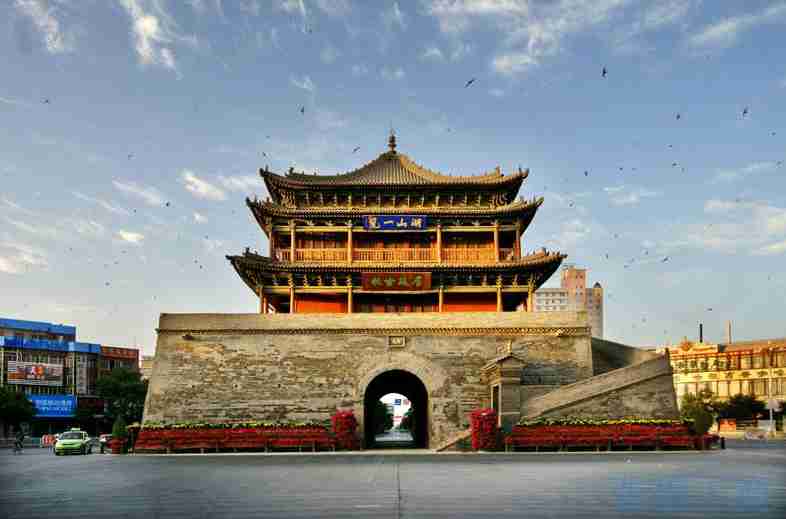 Layout & Function
Bell Tower and Drum Tower Square lies between Bell Tower and Drum tower with a length of 300 meters from east to west and a width of 100 meters from South to north, covering an total area of 2.18 square kilometers. 6000 square meters out of the total area of the Square are grown with green plants.
Like the Bell Tower, Bell Tower and Drum Tower Square are also lying in the center of the ancient city. The Square construction was started from the 1990s and after decades of years efforts, the disordered huts and buildings are all removed. So nowadays the Bell Tower and the Drum Tower could see each other without any difficulty.
Activities
In the early morning, there are always many local citizens, most of them are elders, do morning exercise on the Square. And in the evening and at night, there will be lots of young people go here for evening walking or enjoy their night life.