App boosts access to Terracotta Warriors
Post Date: 2019/08/20 12:03
Share to: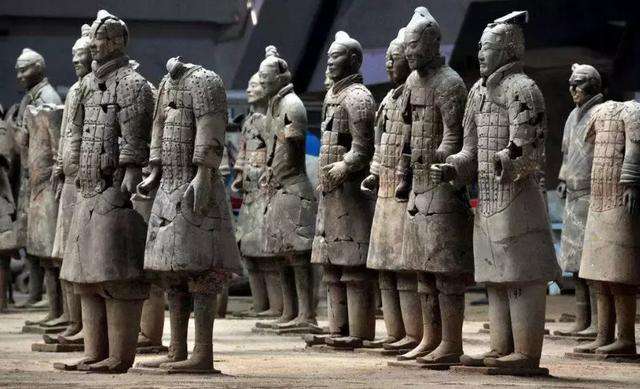 Visitors to the mausoleum of Emperor Qinshihuang, where the Terracotta Warriors are displayed, can now access technology that provides user-friendly tourist maps on mobile phones featuring 360-degree panoramic views and even the ability to find one's warrior "twin".
The applet, introduced over the weekend, provides two maps each of the warrior pits and Lishan Mountain, Xi'an, Shaanxi province, where the tomb is located. Connected with a navigation app, visitors can easily find any spot at the two sites.
The applet also recommends different walking routes, with written and oral introductions to each spot. Virtual reality is also available to provide a more lively experience.
Construction of the Terracotta Warriors-composed of over 8,000 figures-was ordered by Emperor Qinshihuang, the founder of China's first unified dynasty, who ruled during the Qin Dynasty (221-206 BC).
The ornamental warriors, discovered in 1974, symbolically guard the emperor's tomb, which is located several kilometers away and has never been opened for fear of damaging its interior.
Most Terracotta Warriors and other relics found in the nearby tombs and pits have been collected and exhibited in the Emperor Qinshihuang's Mausoleum Site Museum.
Experts believe the applet can help attract more visitors to the pits and some 500 satellite tombs in the vicinity of the mausoleum and Lishan Mountain.
"As the satellite tombs and pits have lesser-known relics to see, annual visits made up only 10 percent of the total to the area compared with museum visits," said Zhao Kun, chief engineer at the museum.
"But with the applet, visitors can learn historical information and have a 360-degree panoramic view of the sites on their mobile phones," he said.
Before they arrive, visitors can preview the tombs and pits through the applet via WeChat-a popular instant messaging platform in China, Zhao said.
The museum began cooperating with internet giant Tencent since last year and began to digitalize the museum's collections.
It also introduced two online functions for visitors. One has questions and answers related to the tomb, relics and Qin Dynasty history. The other is based on facial recognition which allows visitors to find Terracotta Warriors whose facial features are the closest match to their own.
"As we see more young visitors accustomed to modern technology, we hope these new features will be welcomed by the younger generation," Zhao said.
--------------Article from China Daily
Recommended Xi'an Day Tour including Terra-cotta Warriors
1. One Day Xi'an Essence Highlights Tour
2. Half Day Xi'an Terra-cotta Warriors Discovery
3. Xi'an Private Culture Day Tour with Terra-cotta Warriors Tour
4. One Day Xi'an Tour of Terra-cotta Warriors with Dumpling Making