Day 1 Xian--Lanzhou
Place&Transport: Lanzhou
Today's Activities: Drive to your hotel
Accommondation: N/A
Meal: L
Today, take a early bullet train from Xian to Lanzhou by your own. Upon arrival in Lanzhou, your local guide will wait you at the exit of the train station, you will find a welcome sign "Lanzhou Private Tour", then drive you to the Wuwei city, it also knowns as Liangzhou. Wuwei has a long history more than 4,000 years. It was one of the important transportation hubs along the ancient Silk Road. It takes around 3 hours to Wuwei from Lanzhou. The rest of the day is free on your own to have a rest or explore by your own.
Day 2 Lanzhou--Xian By Train
Place&Transport: Lanzhou
Today's Activities: Tianti Grottoes, Luoshi Pagoda, Leitai Park
Accommondation: N/A
Meal: N/A
After breakfast, start your tour at Tiantishan Grottoes. The history of the Grottoes can date back to 1,600 years ago. There are 17 caves, the biggest cave is 30 meters high, 19 meters wide and 16 meters deep. It houses a Sakyamuni statue that is 15 meters high and 10 meters wide, and smaller peripheral caves and murals. Experts have collected some of the site's relics for restoration. The local government built a 10-meter-high dam to protect the caves from water damage. Visitors can view the big Buddha statue from the top of the dam and take ladders down to the statue's feet.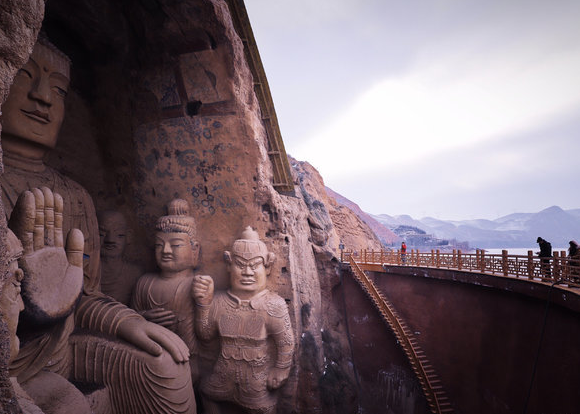 After lunch, continue your tour to visit the Luoshi Pagoda. It is located north street of Wuwei and it was built in memory of the Western monk Kumorosh to carry forward Buddhism and translate classic merits in Wuwei. The existing Luoshi Pagoda has an octagonal & 12-story building, 32 meters high, all made of strip-shaped bricks. The top is a gourd-shaped copper treasure jar. There are small Buddha statues on the top and east, and there are Buddha statues inside. Symbolizing the long and civilized history of Wuwei Ancient City, it is a testimony of cultural exchange between China and the West on the Silk Road more than 1,500 years ago.
The last stop for the tour is Leitai Park in Wuwei, it is one of the famous tourist attractions in Wuwei county. The reason why this tomb is famous in the world is that the bronze statue of Ma Ta Feiyan, a tourist symbol of China, was unearthed here. There is a bronze statue of Running Horse at the center, it is unique with its splendid designs. On the side, there are many bronze army horses. The famous Leitai Han Tomb is in the park, which is the tomb of Zhangye General, the guardian of the Han Dynasty. It will be a highlight during your tour in Wuwei.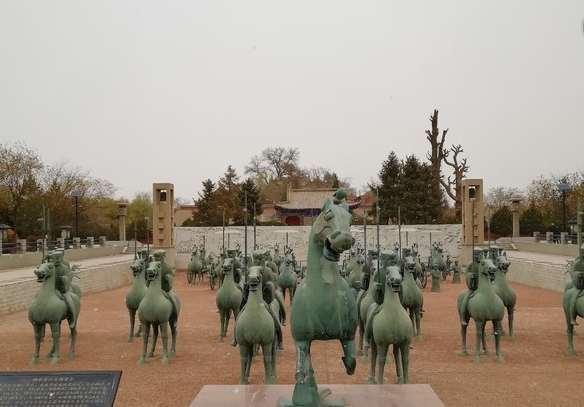 After the tour ends, drive you back to Lanzhou train station. Your make your own way return to Xian.
Optional Service:
1. Private One Way Transfer From Xian downtown hotel to Xian train station: 51USD
2. Private One Way Transfer From Xian train station to Xian downtown hotel: 51USD
3. Round Way Xian Lanzhou Train Tickets:
65USD for 2nd class train tickets
101USD for 1st class train tickets
183USD for business train tickets
Above service is for your references, the 2-Day Xian Tour to Lanzhou by Bullet Train is 100% flexible and customizable, feel free to let us know your requirement.
Price Per Person in US Dollars