History Re-Visited: Xi'an's Famous Museums
Post Date: 2017/10/09 22:35
Share to:
With over 3,100 years of history, Xi'an, also known as Chang'an, is one of the longest-enduring capital cities of old China. It was at its peak during the Han and Tang Dynasties and even though it's no longer the capital of China, we can still find some evidence of its rich past in the artifacts and archaeological findings that have been preserved through the ages. Come with us as we explore three of the city's most famous history museums.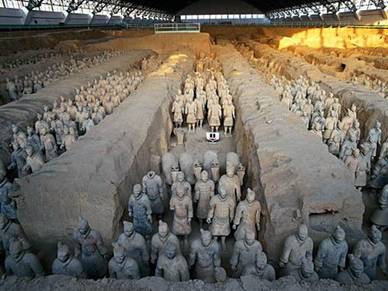 Qin Terracotta Army Museum ?????????
This museum is built on the site of the Qin Shi Huang Mausoleum, where the famous terracotta army that was buried along with where the First Emperor of Qin was discovered. The burial pits were named with serial numbers to indicate the order in which they were found. Pit 1 is the largest of the three archaeological sties and has unearthed mostly terracotta chariots and infantry soldiers – over 6,000 life-size warriors in all. Pit 2 is located to the north of the first pit and contains some of the most precious finds. Pit 3 is located to the northwest of the first pit and is the smallest of the three; it contained terracotta generals and the command post for the army. Also unearthed in the third pit were two large bronze chariots that were painted and constructed with extreme detail; these are two of the earliest dated and most delicately crafted bronze artifacts ever discovered in China.
The museum also has two souvenirs shops: Laigulou and Surround Screen Theater Shopping Center. These two shops are conveniently located for visitors near the end of the museum tour. The souvenirs are mainly miniature imitation terracotta figures and chariots, but the shops also carry some guidebooks for other collections in the museum, as well as paintings, jades, tapestry, and souvenir T-shirts that are unique to Shaanxi and Xi'an.
Add: 1.5 km east of Qin Shi Huang Mausoleum, Lintong county, Xi'an
??:???????????1.5???
Tel: 029 8139 9001
Opening hours: March 16th to November 14th 08:30-17:30; November 15th to March 15th 08:30-17:00
Price: Peak season (March 1st to end of November) – 90 RMB/person; Non-peak season (December 1st to end of February) – 65 RMB/person
Getting there: Bus No. 306, 915, 914, or 101 to Qin Terracotta Army Museum Station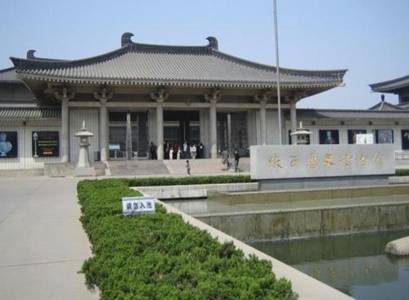 Shaanxi History Museum ???????
The Shaanxi History Museum is modeled after the traditional architectural style of the Tang Dynasty with the main building in the middle and four tower buildings surrounding it in four directions. The museum houses a collection of over 370,000 artifacts, including bronze tools from Shang and Zhou dynasties, terracotta figures from various periods throughout history, gold and silver tools and ornaments from the Han and Tang dynasties, and mausoleum murals from the Tang dynasty. Dubbed the "Treasure Chest of Ancient China," this museum truly attests to the long and rich history of Xi'an, Shaanxi.
There are three exhibit halls, each documenting a different milestone in ancient Shaanxi. There are also two unique exhibits on display at the museum: the Shaanxi Selected Bronze Artifacts and Shaanxi Selected Terracotta Figures of Different Time Periods. Admission is free for the time being, but visitors are limited to 4,000 a day to ensure better preservation of the various artifacts.
Add: 91 East Xiaozhai Lu, Yanta District, Xi'an
??:??????????91?
Tel: 029 8525 3806
Opening hours: Tuesday to Sunday 09:00-17:00 (ticket sales stop at 16:00); closed Mondays
Getting there: Bus No. 5, 19, 24, 26, 27, 30, 34, 400, 401, 521, 527, 610, 701, or 710 to Cuihua Lu Station
Xian Beilin Museum ???????
Xi'an Beilin (Stone Slabs) Museum showcases preserved stone slabs and stone inscriptions found in and around Xi'an. The museum is built as part of the renovation project for the Confucius Temple series architecture; it functions as a place for collecting, studying and displaying stone slabs of various purposes (stelae) and tomb inscriptions. There are nearly 3,000 pieces of stelae (over 11,000 various artifacts overall) spanning a period of 900 years housed in the six display corridors, seven display rooms and eight display pavilions of the museum.
Add: 15 Sanxue Jie, Beilin District, Xi'an
??:?????????15?(????)
Tel: 029 8721 0764
Opening hours: Summer 08:00-18:45; Winter 08:00-18:00
Price: Peak season (March 1st to November 30th) – 45 RMB/person; Non-peak season (December 1st to end of February) - 30 RMB/person
Getting there: Bus No. 14, 402, 512, 223, 704, 208 or Sightseeing Line 6 to the venue
-----eChinacities