E-commerce a key entry-point for overseas brands in China, says study
Post Date: 2018/12/20 16:51
Share to: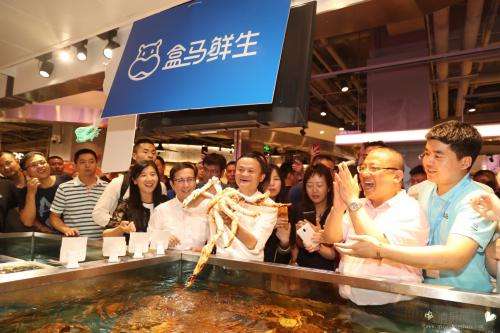 Hema Fresh Store, Xi'an News
Foreign brands should look to cross-border e-commerce when they make their Chinese market debut, thanks to easier access, cheaper prices and quicker market entry times, according to a new market report.
Cosmetics, food and healthcare, and maternity and baby products stand to see the fastest growth by turning to e-commerce, said the Chinese Imported Consumer Goods Market Report, jointly written by consultancy Deloitte China, China Chamber of International Commerce and Alibaba Group Holding Ltd's research arm.
By leveraging e-commerce platforms and big data analysis of the Chinese consumers, global brands are able to update their marketing strategies, sales channels and products regularly, all of which would enhance their operational efficiency, the report said.
"For global brands, stepping into China through cross-border e-commerce means more than just market expansion," said Zhang Tianbing, Deloitte Asia-Pacific Consumer Products and Retail Industry Leader. "It requires a combination of digital resources and approaches to connect and interact with consumers, and satisfy their demands promptly, accurately and efficiently."
In the meantime, firms need to apply advanced technologies and data analytics in operations and management to boost efficiency and evolve with the digital transformation of China's retail industry, he added.
China's cross-border e-commerce market has grown remarkably. In just three years, the import proportion of total e-commerce sales had soared from 1.6 percent in 2014 to 10.2 percent in 2017. The nation's online retail market-now the world's largest e-commerce market-reached 7.2 trillion yuan ($1.04 trillion) in 2017, up 32.2 percent year-on-year.
Young consumers in particular are the driving demand for imported goods. Based on data from Tmall Global, Alibaba's dedicated crossborder retail platform, the internet-savvy post-1990 and post-1995 generations already make up the largest consumer segment for imported items, with their combined online spending accounting for 45.2 percent of the total spend in 2017.
"The next wave of globalization will be driven by global small and medium-sized enterprises and young consumers, leveraging digital economy infrastructure and digital business models. It will be a more inclusive and sustainable wave of globalization," said Gao Hongbin, Alibaba Group vice-president and head of AliResearch.
Consumer demand has also shifted from daily necessities to high-quality goods since 2016. The study found that on Tmall Global, beauty products saw the highest year-on-year sales growth in 2016, while digital home appliances ranked top in 2017.
From China Daily