Xi'an Restaurant
Chinese culture is broad and profound, and Xi'an is not only a birth place of brilliant culture, but also a food paradise. Xi'an is honored as the "Capital of Delicacies". The chefs in the Shaanxi province have accumulated styles and tastes from around the country, and adjusted them to the local flavor and inherits the craft of royal court of past dynasties
What to Eat in Xi'an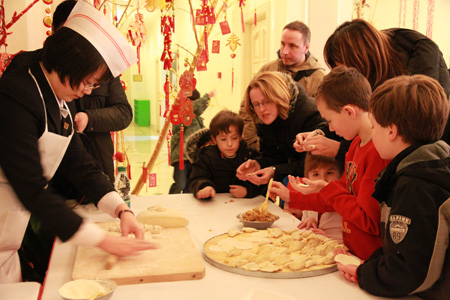 Jiao Zi (Dumplings)
The jiaozi is Chinese traditional cuisine both in Xi'an, and it has been well known for all of the worlds, Jiaozi is not only have the high status in Xian, but also in all of the Chinese people's heart, jiaozi means reunion and happiness. The Chinese dumpling has a long history and is an essential part of celebratory meals such as those prepared for the Chinese lunar Spring Festival, and the jiaozi should be the must-eat in China. This is the food that Chinese people all enjoy to make it in their family partys.
How to make dumplings skin and how to make dumpling recipes?
Doughs Ingredients:
1. 3 cups all-purpose flour
2. up to 1 1/4 cups cold water
3. 1/4 teaspoon salt
Steps:
1. Stir the salt into the flour. Slowly stir in the cold water, adding as much as is necessary to form a smooth dough. Don't add more water than is necessary. Knead the dough into a smooth ball. Cover the dough and let it rest for at least 30 minutes.
2. To make the dumpling dough: knead the dough until it forms a smooth ball. Divide the dough into 60 pieces. Roll each piece out into a circle about 3-inches in diameter.
3. Place a small portion (about 1 level tablespoon) of the filling into the middle of each wrapper. Wet the edges of the dumpling with water. Fold the dough over the filling into a half moon shape and pinch the edges to seal. Continue with the remainder of the dumplings.
4. To cook, bring a large pot of water to a boil. Add half the dumplings, giving them a gentle stir so they don't stick together. Bring the water to a boil, and add 1/2 cup of cold water. Cover and repeat. When the dumplings come to a boil for a third time, they are ready. Drain and remove. If desired, they can be pan-fried at this point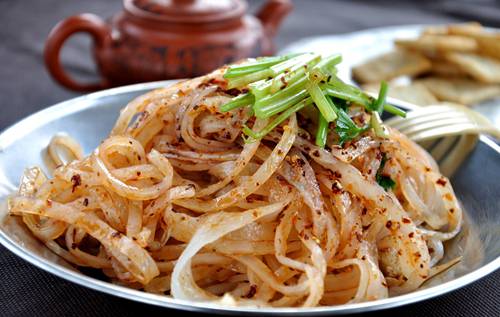 Cold Noodles
Xian cold noodle (西安凉皮) is a famous snack in Shaanxi province. Its unique taste is suitable for all ages. On the basis of different raw material, Xian cold noodle is divided into mi pi (made from rice) and main pi (made from flour).
How to make the sause?
1. 100ml vinegar
2. 1 tsp sesame paste
3. 1/4 tsp sesame oil
4. 1/4 cup (60ml) soy sauce
5. 1 tsp caster sugar
6. 1 tsp dried chili flakes
7. 3 tsp chili condiment (fermented dried chili in oil – from Asian food stores)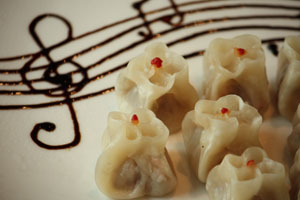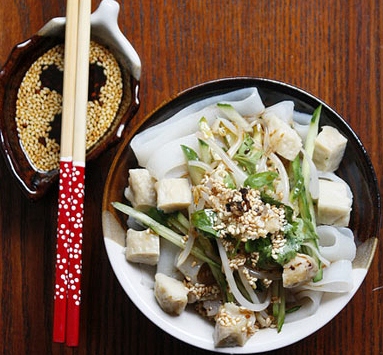 Other Flavor Snacks
Chinese Hamburger (Rou Jia Mo)
Rou Jia Mo is a very popular snack in West China, especially in Xian. The Chinese Hamburger of Xian is a perfect combination of Braised Meat in Preserved Sauce and Baiji Pancake. The meat is more tender and fresh than the ordinary braised pork. With various kinds of ingredients, proper cooking and age-old soup, the meat is ruddy, soft, and fragrant. A Rou Jia Mo usually charges CNY 5-7 in Xi'an, but the flavor varies from vendor to vendor due to the different seasonings applied.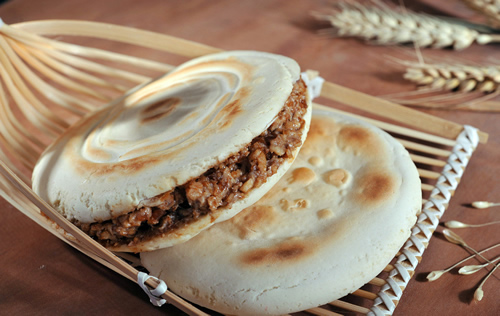 Pita Bread Soaked in Lamb Soup (Yang Rou Pao Mo)
Pita bread soaked in beef and lamp soup arguably one of the most celebrated snacks in Xi'an city. Stew fine beef and lamp until they are tender as soup; then break the pita bread into pieces before cooking. After trying it, you may have a small bowl of soup. It will taste better if you have some pickled sweet garlic at the same time. While Gansu province enjoys bear jerky, Shaanxi province boasts pita bread soaked in beef and lamp soup".
Xian Famous Cuisine Street
East Street
East Street is home to many local famous restaurants, such as The Sun Family's Restaurant, Xian Restaurant, Wuyi Restaurant, Chunfasheng Restaurant, Xian Roasted Duck Restaurant, Defachang Dumpling Restaurant and the like. In these restaurants, the most authentic Xian food would be served.
South Street
The Princess Seafood Hot Pot, fast food restaurants, coffee bars and tea houses are all available, which has much to offer for gourmets.
Beiyuan Gate Area
In this area, diverse Muslim food is easily available, such as Pita Bread Soaked in Lamb Soup, roasted mutton, sauce-salted food and the like. No matter what your preference is, Beiyuan Gate area has something for you.
Dongxin Street Night Market
The night market on Dongxin Street is a large night market in Xian, where diversified snacks both in Shaanxi and other regions of China are all offered, which could meet the needs of different gourmets.
Snack Market in Qiulin Department Store
Most local snacks of Xi'an could be found here, from buckwheat noodles soaked with sheep blood soup, pancake rolled with duck, pork sandwiched with unleaven flatbread, to vegetables soaked in thick spicy soup, Guokui leavened flatbread, cold beancured jelly and the like. Snacks here are charged with low price but with high quality.
Address: No. 58, Yanta North Road, Lijiangcun Village, Beilin District, Xi'an
Famous Xian Restaurants Recommended
Fan Family's Pork Sandwiched with Unleaven Flatbread
Tel: 029-87273917
Address: No. 51, Zhubashi Street, Xi'an
Specialty: Pork Sandwiched with Unleaven Flatbread. Due to special seasonings applied, the Chinese hamburger here is featured with crisp tender meat, distinctive flavor and savory taste.
Xian Wuyi Restaurant
Address: No. 351, East Street, Xi'an
Tel: 029-87681098
Specialty: Sweet Dumplings stuffed with black sesame, steamed pork dumplings, Queen's flatbread, Wuyi flavored chicken and spicy sheep blood, Wuyi pork sandwiched with unleaven flatbread. These dishes are all honored as the "The Most Famous Food in China".
The Sun Family's Restaurant
Address: No. 80, Baishuifang Road, Xi'an
Specialty: Pita Soaked in Lamb Soup, Roasted Fish Soaked with Fermented Beancurd
Yongfeng Qishan Noodles
Address: Southwest of Tumen Gate Crossing
Tel: 029-85511366
Specialty: Qishan Noodles, Qishan Cold Noodles, Qishan crisp leavened flatbread, Honey Rice Dumplings, Qishan Cold Bean Curd Jelly
Xi'an Restaurant
Address: 298, East Street, Xi'an
Tel: 029-87680618
Specialty: Xian Restaurant is known for its authentic flavor and complete variety. Many national leaders, Zhou Enlai for example, have dinned here and spoke highly of dishes here. The specialties in Xian Restaurant range from Hulu chicken, sweet rice fried with fruit nuts to other local snacks of Xian.